I have taught a few candy making 101 classes to neighborhood cooking and youth groups in the past and I have loved it! They are so much fun to teach and I realize just how nerdy I am about the science and the process that is candy making! I really have to pull in the reigns, so to speak, on myself because I want to create and teach about everything in candy making and make an entire candy buffet for everyone and have them try one of each! So I created this post as an introduction to the basics of candy making, the foundational information needed to get you started.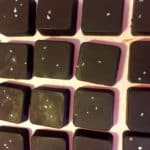 First, the basics of sugar work! In order to make any form of sugar confection you have to learn about the science and methodology of the process. That methodology is represented in the different sugar stages that happen when you make any sort of sugared candy. These stages occur when the sugar hits a certain temperature and the percentage of water decreases. Those stages are thread stage, soft ball stage, hard ball stage, soft crack stage and hard crack stage. Here is the best explanation of these stages and what can be made with each stage. CLICK HERE for the science, temperatures and ice water testing information.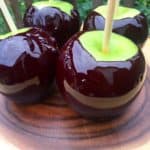 Second the basics of Chocolate! In order to get a homemade chocolate to have a shiny appearance, maintain it's shape perfectly at room temperature and have a perfect snap; it needs to be tempered. This comes about by heating the chocolate to a certain temperature then cooling it down to another specific temperature before using it in your confections. This may sound a little daunting and I am not going to lie it isn't always an easy process. Here is the best explanation and instructions on how to properly temper chocolate that I have found. ClICK HERE to learn about tempering.
I personally love the microwave chocolate tempering process. CLICK HERE for instructions on how to do that!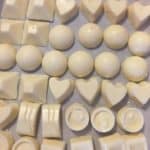 So what did I make for my class? I made a hand full of yummy treats!
Caramel Apples. CLICK HERE for my perfectly silky, versatile and delicious caramel recipe. I brought different chocolates and toppings and everyone got to dip and decorate their own apples.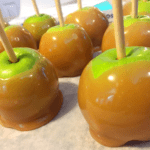 Mint Truffle Bars ClICK HERE for these heavenly bars.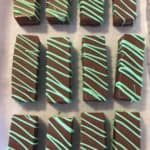 Dark Chocolate Sea Salt Caramels – USE my Caramel recipe but cook to the soft ball stage, freeze caramel and cut into squares. Dip frozen squares into melted and tempered dark chocolate. Sprinkle with sea salt.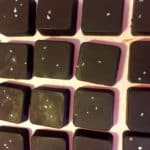 White Chocolate Truffles with pink sea salt (and a subtle coconut flavor) – Recipe coming soon.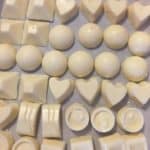 Molding chocolates filled with white chocolate ganache- recipe coming soon.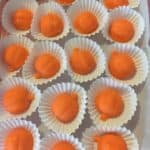 Milk Chocolate Truffles – Find recipe HERE
Oreo Truffles – Find the recipes for these super easy and quick truffles HERE.
Some of my favorite confections!
Marshmallows! I get so excited when I talk about making marshmallows because they are so fun! They are magical to make and will bring out the kid in every person that makes them. They are also fairly easy to make and taste amazing! I learned how to make marshmallows from Alton Brown so HERE is his marshmallow recipe and watch the video!
Nougat! How doesn't love nougat! Even if you don't like it you can't resist saying the word nougat, am I right?!? Here is the best recipe for that! This recipe can be used in homemade three musketeer bars, snickers, milky ways, nut bars, big hunks, the list goes on! HERE is a great nougat recipe.
Homemade Butterfingers- There are two ways to make these, the easy way HERE and the complex way HERE.
Fudge- My mom makes the best fudge ever and someday I will share her exact recipe but for now HERE is a comparable one.
Candied Apples- Click here for my "poison" cinnamon candied apples.