These English muffins are super easy to make and taste delicious! I love them slightly toasted with butter and jam and in savory breakfast sandwiches. I also make the most delicious turkey burger with them and it's one of my husbands favorite meals!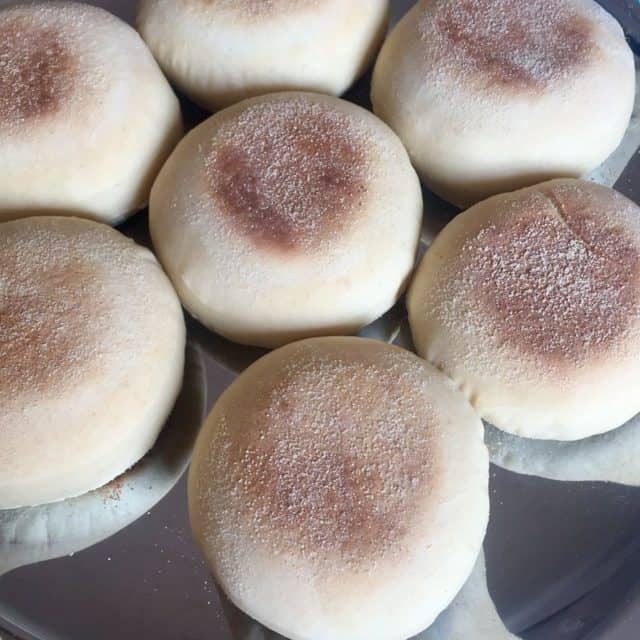 What you need
Makes 8 Large Muffins
1 cup Milk
2 Tablespoon Sugar
1/4 cup Warm Water
1 tablespoon Dry Active Yeast
1 tablespoon Vegetable Oil
1 1/2 teaspoon Salt
3 cups Flour
1/4 cup Cornmeal or Semolina Flour
Instructions
In a microwave safe bowl, add milk and sugar and microwave for 1:30 or until the milk is slightly steaming. Set aside so the mixture can cool to a warm temperature.
Preheat oven to 170 F. Then turn it off once it hits that temperature.
Mix the warm water with yeast and let sit for 3 minutes.
Add the warm milk and sugar mixture with the warm water and yeast mixture and add your oil, salt, and flour.
Knead the dough with a dough hook on an electric mixture for 5 minutes.
Roll dough out to about 1 inch thickness and use a circular cookie cutter, biscuit cutter or even a cup to cut out your English muffins.
Place the cut out english muffins on a cookie sheet that has been dusted with cornmeal or semolina flour, dust the tops of the muffins with more cornmeal or semolina flour.
place cookie sheet into a warm oven and allow the muffins to rise for 30-45 minutes.
Using an electric skillet or pan on the stove, place the English muffins and cook on 275 F. for 10 minutes per side. Place cooked muffins into a warm oven to keep warm while you finish all muffins. Slice in half when ready to eat.
*If your bottoms get too browned and the dough isn't quite cooked inside, finish the baking process in a oven with the oven at 350 F. for 5-10 minutes.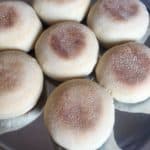 Print Recipe
English Muffins
Homemade English Muffins taste amazing and are fairly easy!
Servings:
8
Large English Muffins
Ingredients
1

cup

Milk

2

Tablespoon Sugar

1/4

cup

Warm Water

1

tablespoon

Dry Active Yeast

1

tablespoon

Vegetable Oil

1 1/2

teaspoon

Salt

3

cups

Flour

1/4

cup

Cornmeal or Semolina Flour
Instructions
In a microwave safe bowl, add milk and sugar and microwave for 1:30 or until the milk is slightly steaming. Set aside so the mixture can cool to a warm temperature.

Preheat oven to 170 F. Then turn it off once it hits that temperature.

Mix the warm water with yeast and let sit for 3 minutes.

Add the warm milk and sugar mixture with the warm water and yeast mixture and add your oil, salt, and flour.

Knead the dough with a dough hook on an electric mixture for 5 minutes.

Roll dough out to about 1 inch thickness and use a circular cookie cutter, biscuit cutter or even a cup to cut out your English muffins.

Place the cut out English muffins on a cookie sheet that has been dusted with cornmeal or semolina flour, dust the tops of the muffins with more cornmeal or semolina flour.

Place cookie sheet into a warm oven and allow the muffins to rise for 30-45 minutes.

Using an electric skillet or pan on the stove, place the English muffins and cook on 275 F. for 10 minutes per side. Place cooked muffins into a warm oven to keep warm while you finish all muffins. Slice in half when ready to eat.

*If your bottoms get too browned and the dough isn't quite cooked inside, finish the baking process in a oven with the oven at 350 F. for 5-10 minutes