This Greek grilled chicken is so delicious! It's tender, moist and so flavorful! I wish I could just hand you a sample through the phone or computer screen or whatever you may be using right now, just so you could taste it because I know you would love it!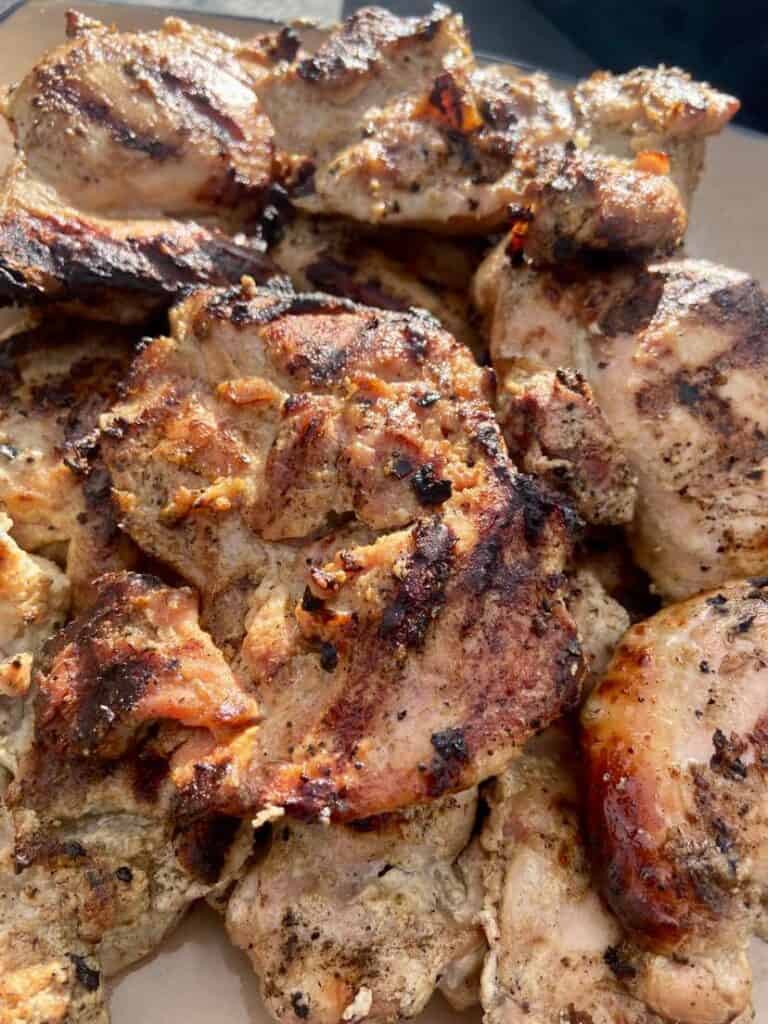 Wouldn't that be cool if we could do a recipe sample on a blog, kind of like strolling through Costco during samples hour? I know I would love that, maybe someday we will get there, who knows! But since we aren't that yet, let me tell you about this chicken.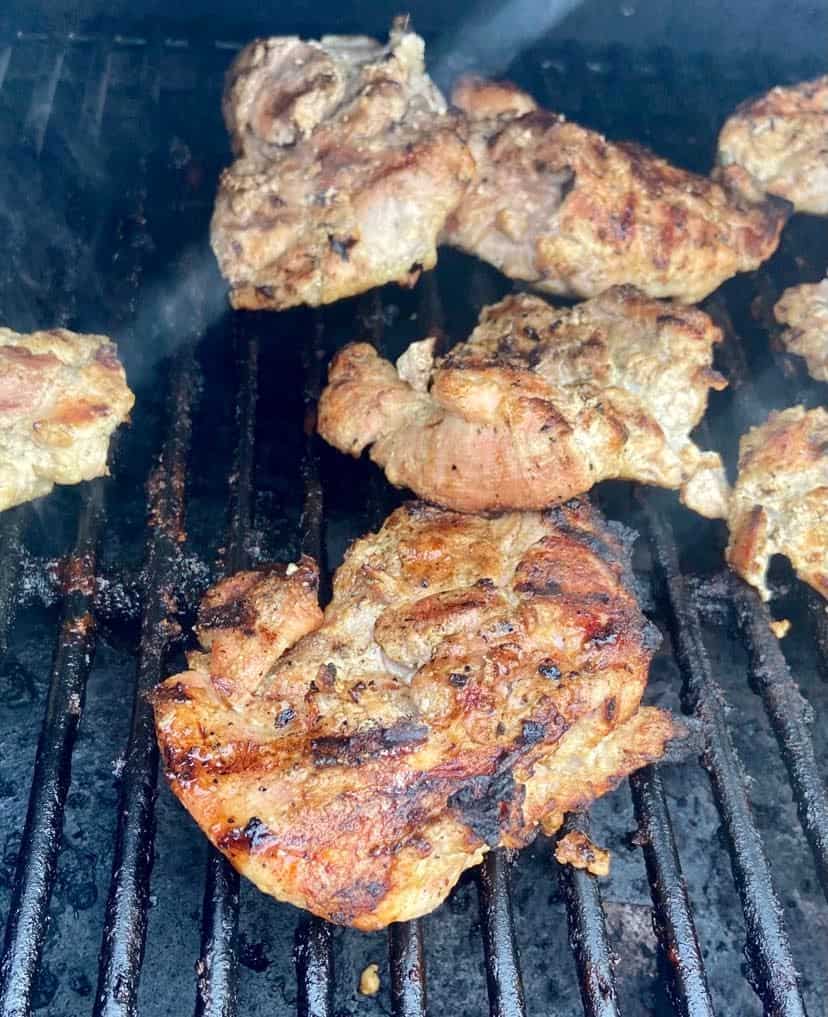 This Greek grilled chicken is moist and tender and full of herby and savory flavor. The grill or smoker does the rest by providing the best smoky undertone to this chicken and caramelizing the yogurt marinate to make it extra scrumptious!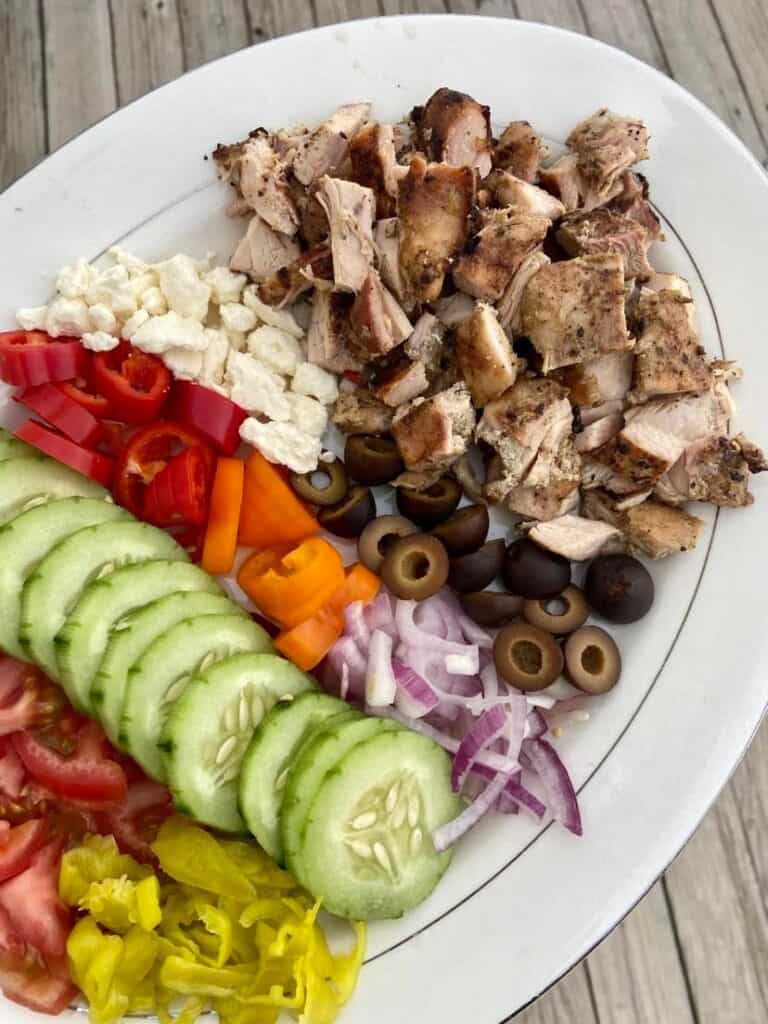 I love this chicken on it's own, on a salad or wrapped in a pita for a fabulous grilled chicken pita! That recipe is coming very soon, stay tuned!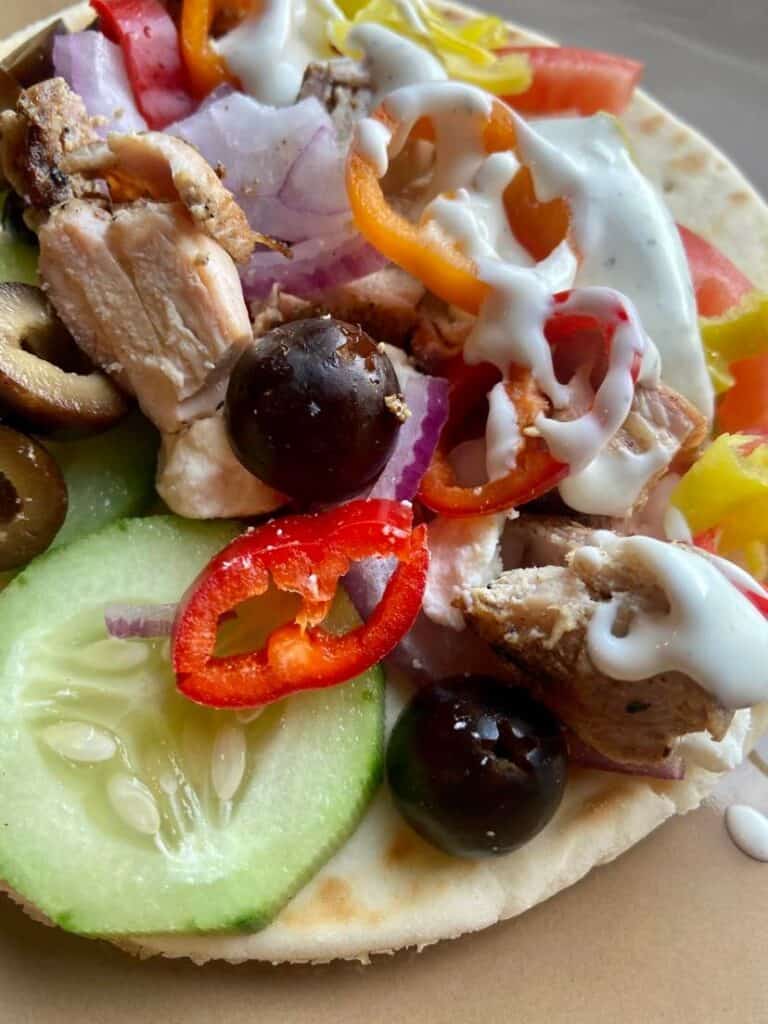 Here is what you need to make this Greek grilled chicken: (printable recipe below)
Serves 4
1 1/2 pounds boneless skinless chicken thighs
1/2 cup plain yogurt
1/2 tablespoon poultry seasoning
3/4 teaspoon salt
1/4 teaspoon black pepper
1/2 teaspoon garlic powder
1 tablespoon lemon juice or about 1/4 a lemon juiced
Instructions
Preheat grill or smoker to 400 F.
In a large bowl or dish, add chicken thighs, yogurt, poultry seasoning, salt, black pepper, garlic powder and lemon juice and mix around well so all of the chicken is coated well.
Place chicken on grill and grill for roughly 10 minutes per side, depending on the thickness and size of your chicken thighs. Cut one open to make sure it is cooked through or check the temperature and make sure it is 165 F. internally.
Serve and enjoy.
Here are a few other recipes you may also enjoy:
Chimichurri Grilled Chicken
Harissa Chicken and Rice Wrap
Thai Chicken Lettuce Cups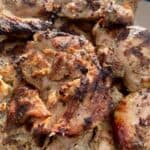 Print Recipe
Greek Grilled Chicken
Tender and juicy Greek inspired grilled chicken that is delicious!
Ingredients
1 1/2

pounds

boneless skinless chicken thighs

1/2

cup

plain yogurt

1/2

tablespoon

poultry seasoning

3/4

teaspoon

salt

1/4

teaspoon

black pepper

1/2

teaspoon

garlic powder

1

tablespoon

lemon juice or about 1/4 a lemon juiced
Instructions
Preheat grill or smoker to 400 F.

In a large bowl or dish, add chicken thighs, yogurt, poultry seasoning, salt, black pepper, garlic powder and lemon juice and mix around well so all of the chicken is coated well.

Place chicken on grill and grill for roughly 10 minutes per side, depending on the thickness and size of your chicken thighs. Cut one open to make sure it is cooked through or check the temperature and make sure it is 165 F. internally.

Serve and enjoy