Move aside canned tuna fish sandwich because this trout salad sandwich is embarrassing you! Seriously, this sandwich is super yummy! You can use smoked or baked trout. Make sure all of the bones are removed then you add the other ingredients and top with your favorite toppings. I personally love romaine lettuce, tomato and pea shoots. Avocado and french fried onions would also taste amazing on this.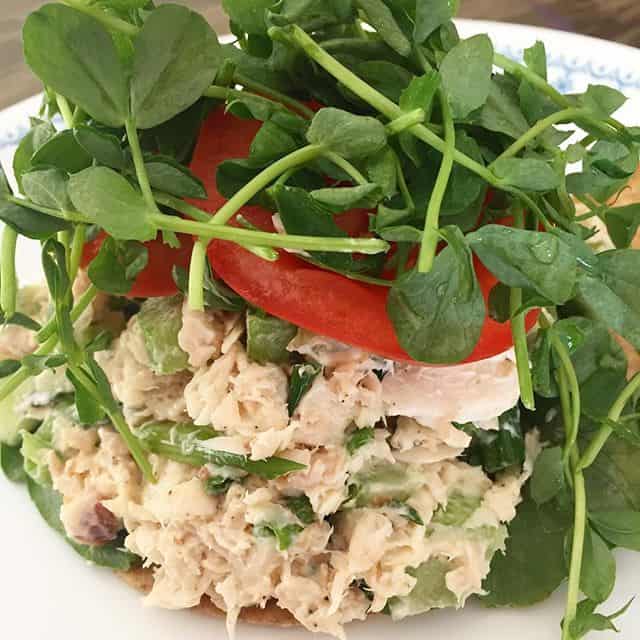 You can get trout at alot of grocery stores or you can go fishing for it. We live a little ways from a few fishing ponds and while I am not an avid fisher I do love the trout farm that's about an hour away because they guarantee you will catch a fish, then they gut it, descale and fillet it for you! That is my ideal fishing experience.
You could use another delicate fish like steelhead or tilapia if you couldn't find trout. I do love the delicate flavor and taste of trout, it's fresh and not muddy and not too fishy.
What you need for trout salad sandwich:
serves 2
1 medium smoked or cooked trout -Only the meat, bones carefully removed and skin removed
2 tablespoons mayonnaise
2 green onions – sliced
1 celery stalk – diced
pinch of salt
dash of black pepper
Bread, baguette or wrap
Optional toppings:
romaine lettuce
tomato
pea shoots
Avocado
French fried onions
Instructions
Flake fish into a bowl, add mayonnaise, green onions, celery, salt and pepper to the fish and mix together.
serve in with romaine lettuce, tomato and pea shoot, on it's own or with your favorite sandwich toppings.
Here are a few other fish recipes you might like:
Lemon Tarragon Trout RECIPE HERE
Red Miso Buttered Cod RECIPE HERE
Blackened Mahi Mahi RECIPE HERE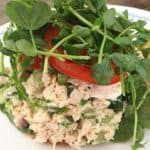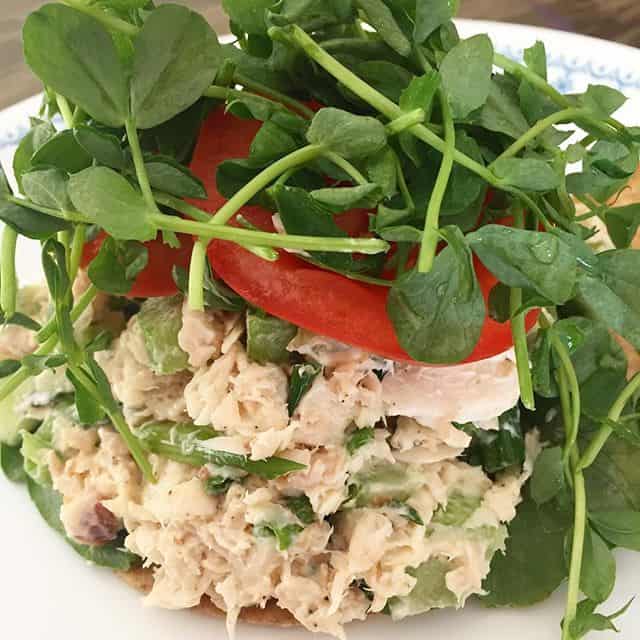 Print Recipe
Trout Salad sandwich
Delicious and delicate trout in a drool worthy sandwich!
Ingredients
1

medium smoked or cooked trout -Only the meat

bones carefully removed and skin removed

2

tablespoons

mayonnaise

2

green onions - sliced

1

celery stalk - diced

pinch

of salt

dash of black pepper

Bread

baguette or wrap

Optional toppings:

romaine lettuce

tomato

pea shoots

Avocado

French fried onions
Instructions
Flake fish into a bowl, add mayonnaise, green onions, celery, salt and pepper to the fish and mix together.

serve in with romaine lettuce, tomato and pea shoot, on it's own or with your favorite sandwich toppings