Here is my list of 25 Christmas dishes for a holiday work potluck party! It's potluck season at companies all around the world! These potluck parties offer a nice little break from the everyday grind, where everyone can come together to eat, mingle and feel of the holiday cheer.
Whether you like these parties or hate them, they are happening and you will probably want or feel obligated to contribute. We might not want to admit it, but we all secretly want to have that dish that everyone raves about and asks "Can I get that recipe?".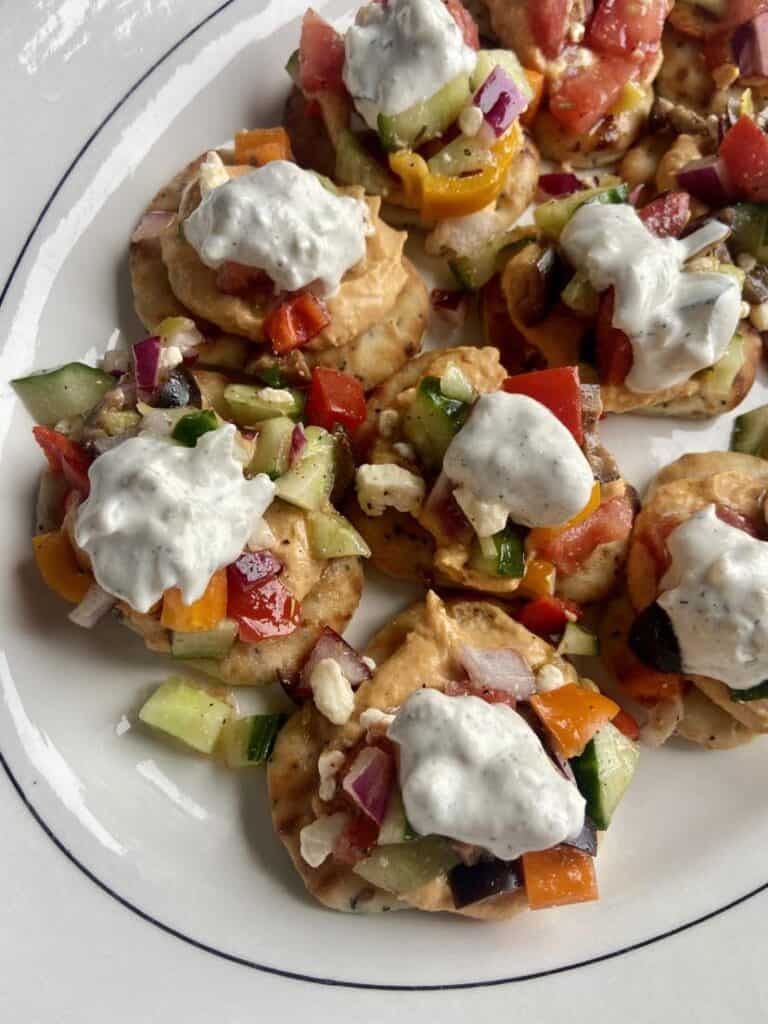 What about the time it takes to make these dishes?
I have considered the time and effort it takes to prepare each of these dishes and their ability to be made ahead of time and transported easily into the office. These are all important factors when you are bringing a dish to your company potluck.
With all of these factors taken into account, here is my list of 25 Christmas dishes for a holiday work potluck party that will hopefully get you great reviews and ease your stresses of figuring out what to bring.
I've separated this post into 4 categories, Appetizers, Christmas Classics, Crowd Pleasers and Desserts.
Appetizers
I am a lover of appetizers and could make a meal out of just them any day! They are small bites with big flavor, my kind of thing! Here are a few that are perfect for the holiday pot luck party.
Avocado And Sundried Tomato Bites
These can be whipped together in just minutes when you use a pre-made pita bread that is cut into bite size pieces. You also have the option to make your own easy flatbread if you are feeling ambitious. They are then topped with my avocado, cilantro and sun dried tomato mixture then drizzled with a balsamic glaze. These are tried and true. Everyone loves them and I always get rave reviews!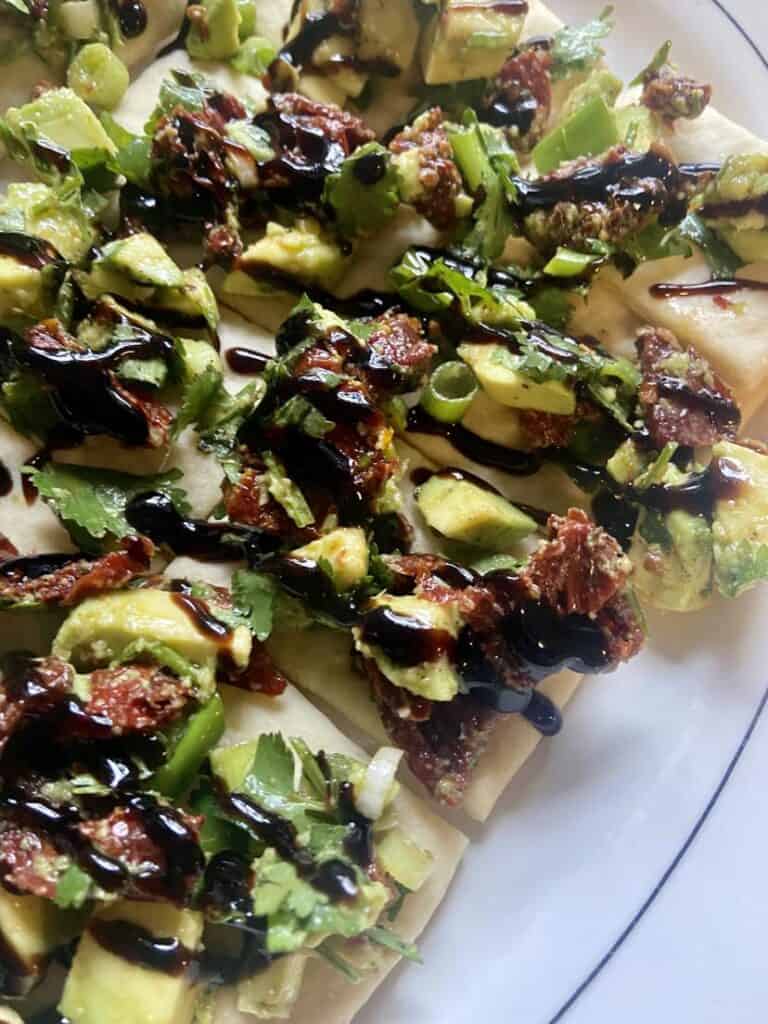 Savory Sausage Cranberry Puff Pastry Bites (by Norine's Nest)
These delectable bites have a puff pastry base with a sausage meatball that gets topped with cheese and cranberry sauce. It's the ultimate holiday appetizer with it's savory flavor and that pop of sweetness that makes your tastes buds sing!
Ranch Cheese Ball (by Kelly's Kitchen Creations)
You can never go wrong with a good cheese ball! It's a tried and true potluck winner! This ranch cheese ball is packed with flavor! It's easy to make with the added bonus that it is perfect to prepare in advance!
If you are a lover of Greek foods then this is the perfect appetizer to bring! It has mini naan (or pita bread), hummus and an easy to make Greek "salsa" to put on top with tzatziki sauce. It's the perfect bite and sure to have your coworkers coming back for more.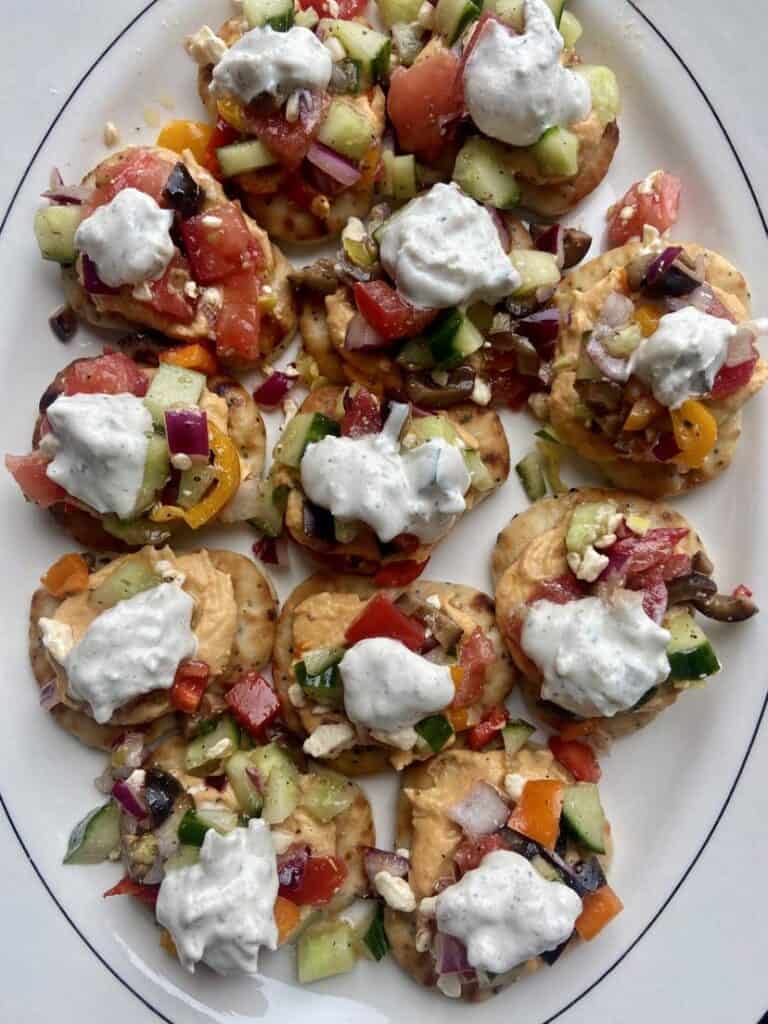 Salmon Party Log Recipe (by Norine's Nest)
Bring a little fancy to the office with this delicious salmon party log. It looks sophisticated but is secretly easy to make. This is a savory flavor bomb and it will have you and your co-worker coming back for more!
If you are not familiar with bruschetta, it is basically an Italian salsa that gets served over bread! Grab a baguette from the bakery, slice and serve along side this flavor packed tomato, garlic and basil bruschetta. It's an appetizer favorite and added perk is that it's colors are perfectly festive without even trying!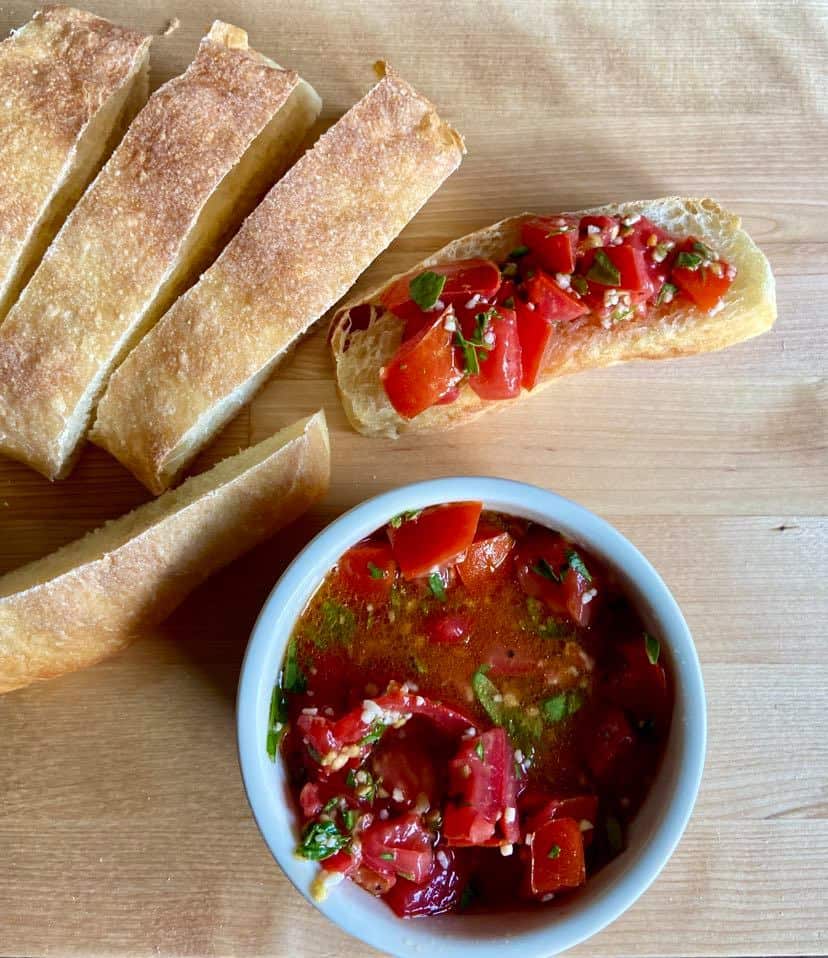 Christmas Classics
We all know and love them! The classic dishes that we associate with the holidays. These dishes feed our inner nostalgia just as much as they make our taste buds and tummies happy. Here are some of my favorite classics to bring into work.
I'm a glutton for a good stuffing and this one screams holiday gluttony with the addition of savory mushrooms and bacon! It's drool worthy and can easily be made ahead of time then reheated just before you bring it into work.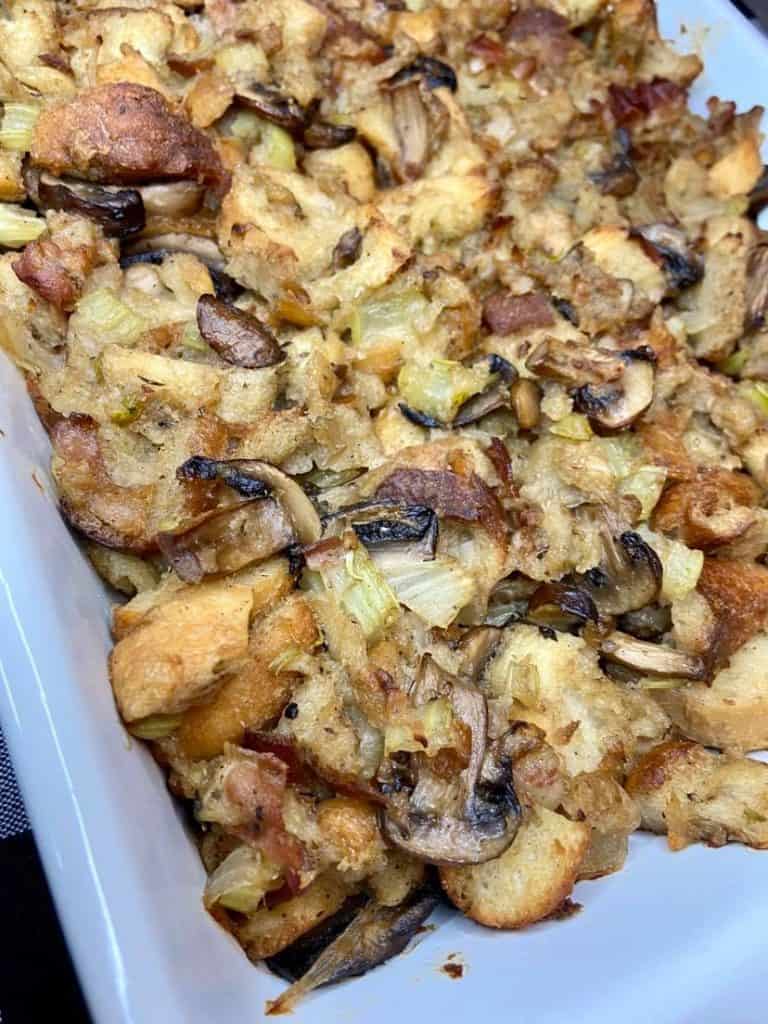 Hot Cranberry Turkey Sandwich Recipe (by Norine's Nest)
I'm not going to lie, I am actually drooling over this recipe as I type this. Cranberry and turkey are besties when it comes to flavor profiles and one of my all time favorites! You might think, "A sandwich for a potluck?" to which I answer a big huge YES! To make this sandwich for the masses, use a loaf of French bread, After heating, wrap it in tin foil to keep it warm and when it's time to eat, slice into small slices and I promise it will be a hit!
Sausage Christmas Breakfast Casserole
This is such an easy way to get Christmas classic flavors into a potluck worthy dish! It has sourdough bread, eggs, sausage and cheese in it. Extra points for being easy to carry into work, use a disposable pan and your clean up is a cinch.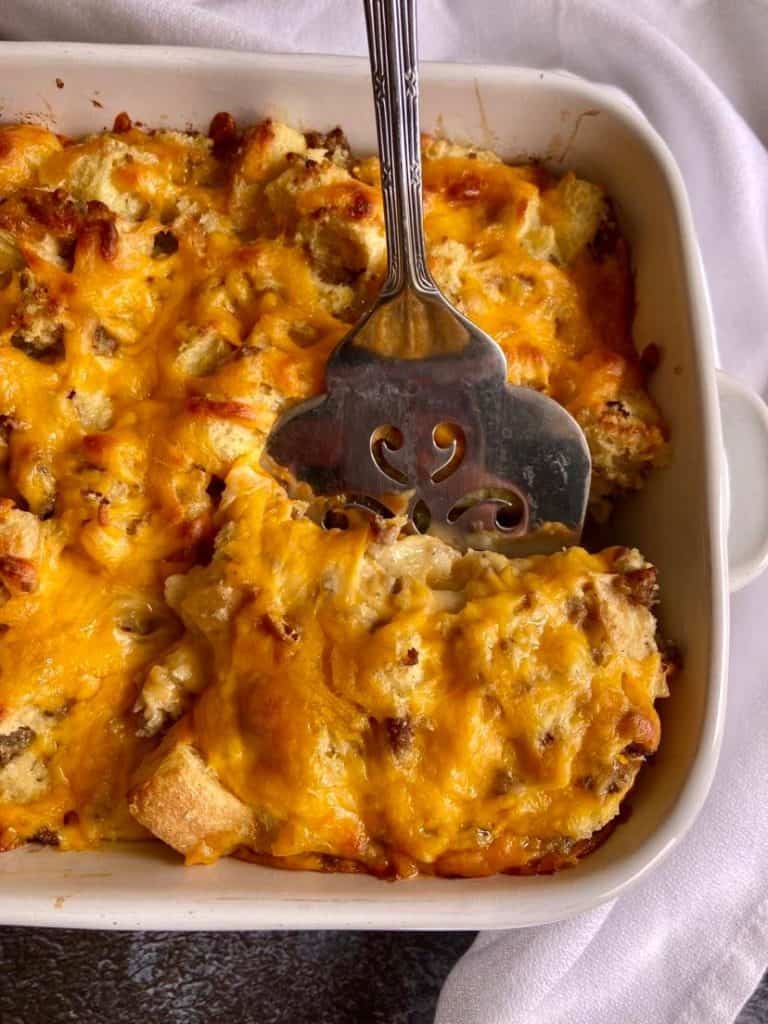 Balsamic Glazed Green Beans with Bacon (by Norine's Nest)
This twist on the holiday classic vegetable will have the office watering hole buzzing. Bacon, balsamic, crispy shallots, almonds, I mean, come on, this is a flavor a texture lovers dream.
Honey and Harissa Roasted Carrots
Roasted carrots are one of my all time favorites! They get such a great umami to them when they get roasted and when that is paired with harissa spice blend, honey, pistachios, pomegranate and feta they really taste magical.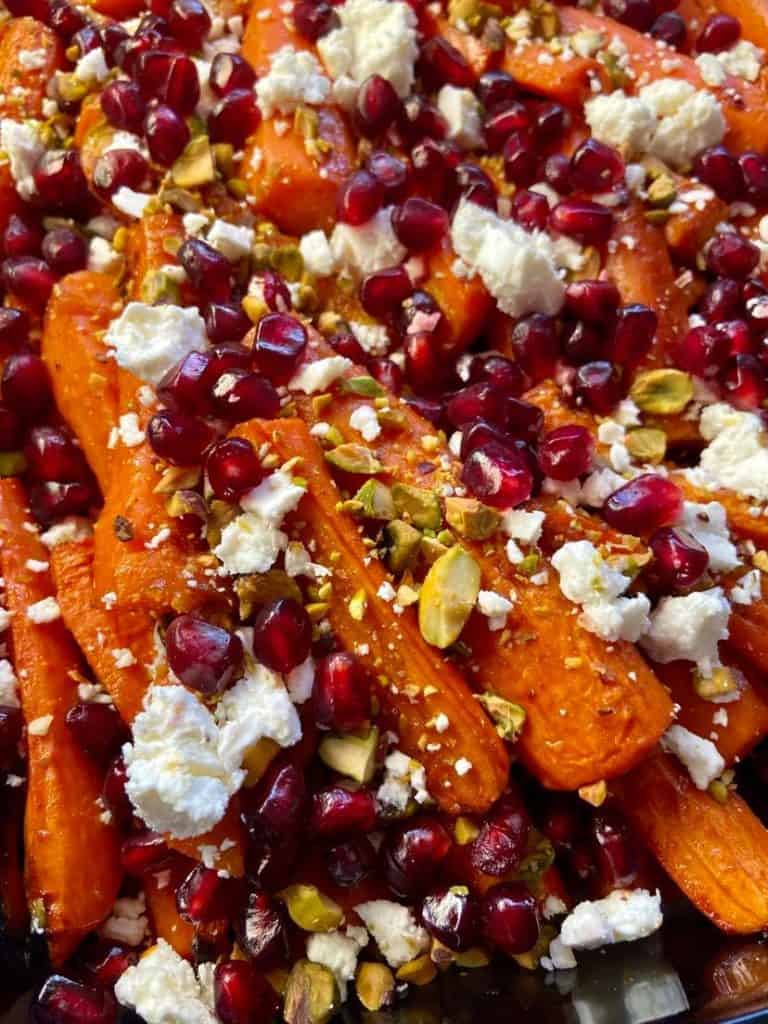 Herb Crusted Boneless Turkey Roast (by Norine's Nest)
Bringing a whole turkey to your work potluck might be a little too much but this herb crusted boneless turkey roast isn't. It's the perfect nod to the holidays and hits the marks for classic dishes.
Lasagna is a classic Christmas dish for many people! Conveniently for us, it's also the perfect potluck dish to bring! This hearty sausage and mushroom lasagna is sure to be a favorite of those who love big flavors, it can be made ahead of time and then baked or reheated right before your are going to serve it.
Crowd Pleasers
We all know the dishes that everyone loves, the crowd pleasers that speak the universal language of yum! These dishes will get requested for next years potluck and you might even have some copycats next year. Which we all know is the highest form of flattery.
This warm potato salad is a real crowd pleaser! The potatoes get boiled and then smashed on top of a bed of parmesan cheese and then baked to form a caramelized and delicious potato. They then get added to a bowl with roasted garlic and fresh dill to make a delectable warm potato salad that everyone will love. This dish can be kept in a crockpot on low to help it say warm or served cold.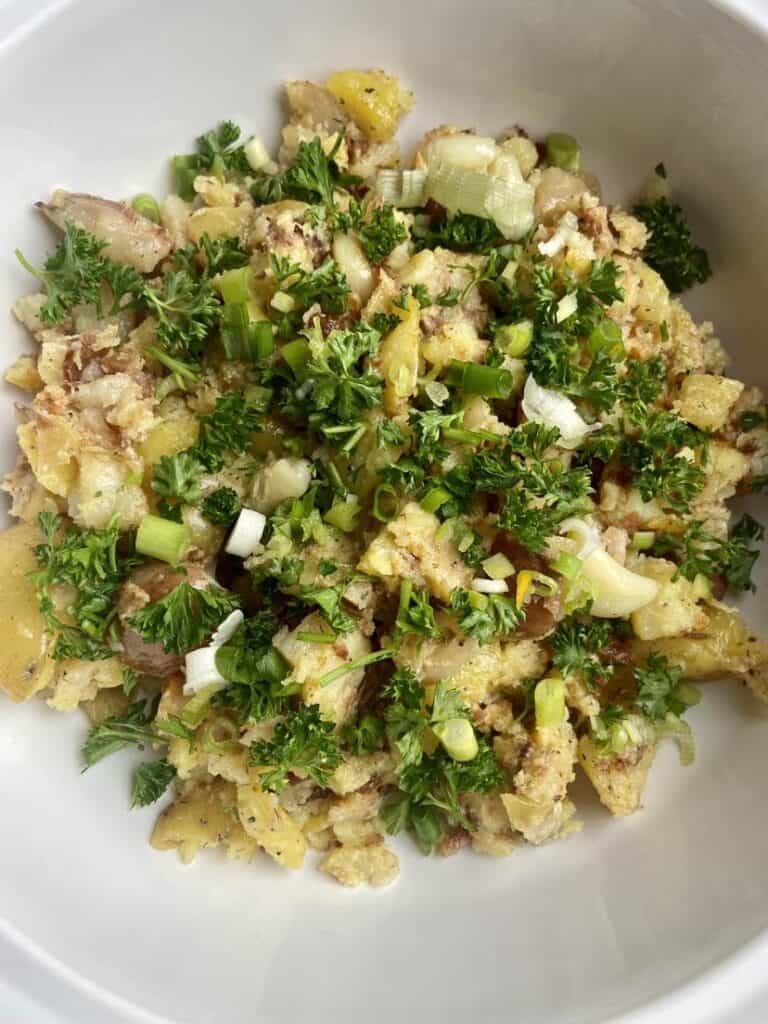 Your first thought might not be to bring Indian food to a Christmas party, however, I promise this butter chicken will be a crowd pleaser! The flavors are warm and savory and I have converted even the pickiest of eaters into lovers of this dish. The instant pot does the heavy lifting and you just need to bring some basmati rice to serve on the side. Add some naan bread if you are feeling extra.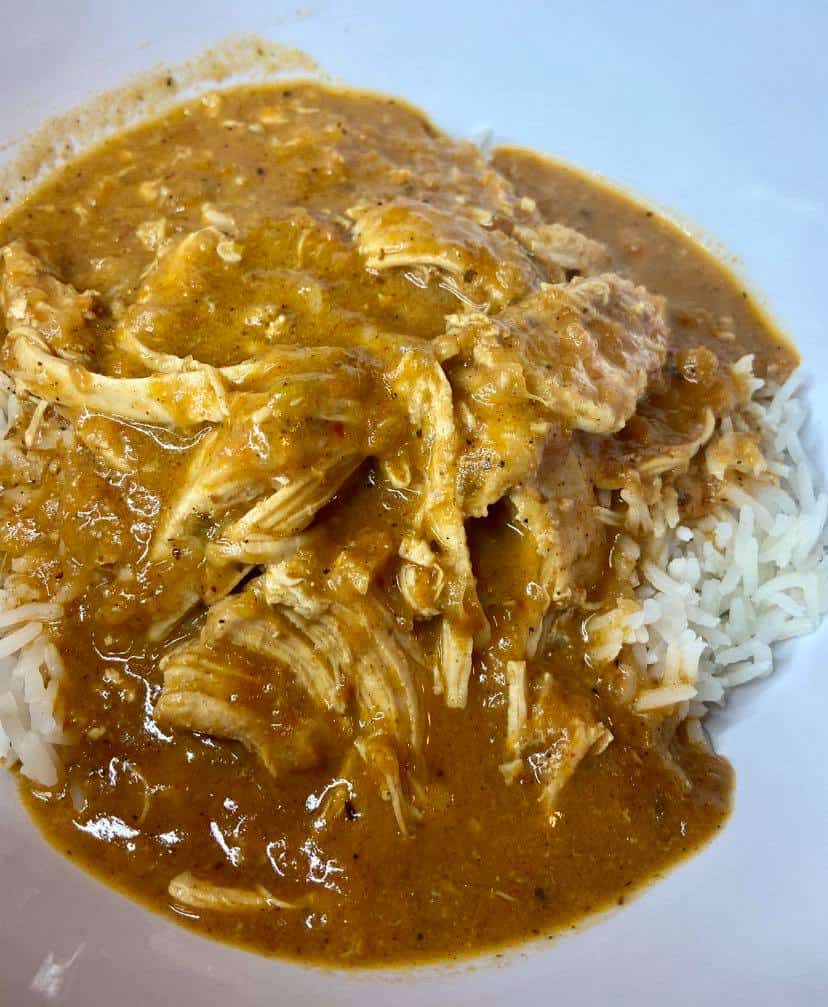 Instant Pot Million Dollar Spaghetti
Spaghetti is a crowd pleaser because it's familiar and delicious! This million dollar spaghetti is full of cheese and extra goodies that take it over the top. You can swap out the spaghetti noodles with a easy-to-serve pasta like penne or macaroni for simple serving at the potluck.
Baked Ham and Cheese Sliders (by Kelly's kitchen creations)
These sliders were made for parties and potlucks! They are easy to make, great for easy service and they bring the yumminess factor full force!
Also known as a cottage pie, this one is a classic crowd pleaser. It boasts some beautiful flavors in a rustic and humble way that draws you in and makes you feel cozy. This version can be made in a crockpot and it's perfect for potlucks.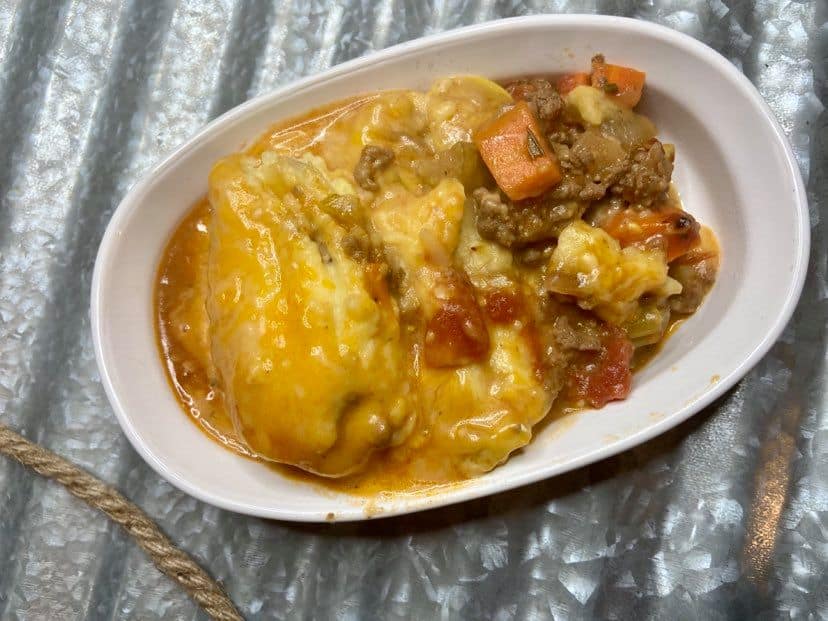 Homemade Mac & Cheese With Real Cheddar
This homemade mac & cheese with real cheddar is a classic crowd pleaser. Not too many people will pass by a pot full of homemade mac and cheese at a potluck, it's just a scientific fact. (well maybe not scientific but it should be.)
Don't underestimate the value of a great roll! These grandma style butter rolls are rolled up in butter and then baked to tender soft pillows of heavenly joy. I sound dramatic but you have to believe me that these will designate you as the company baking expert and have people asking you for the recipe. they can be made ahead of time, frozen and then baked the day of the potluck.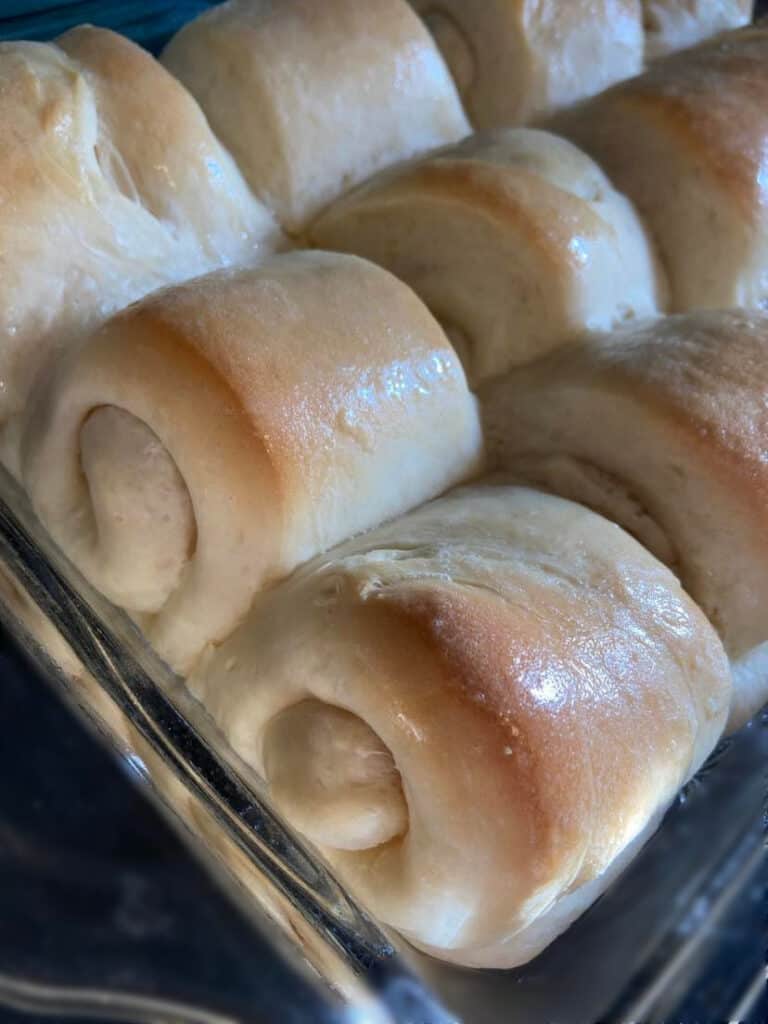 Desserts
What better excuse to pile up a plate full of treats than at a potluck where you need to try all the goodies for "quality control purposes", (wink wink). This is your time to shine by bringing some sweet treats that will knock the socks off of Rodger in accounting and leave Susan from HR speechless (a rare and coveted feat).
Starbucks Birthday Cake Pop Copycat Recipe
These are literally yellow cake and vanilla frosting smashed together and rolled into a ball then dipped in an almost chocolate like pink candy coating and served on a stick! Who doesn't love that?!?! Most of your co-workers will be drawn to the familiar treat and might even think you swung by the drive through of Starbucks on the way in. However, because you're smart with money (a real company asset) you made these fake out's at home for a fraction of the cost (so smart). This recipe makes 36 and I guarantee they will all disappear quickly.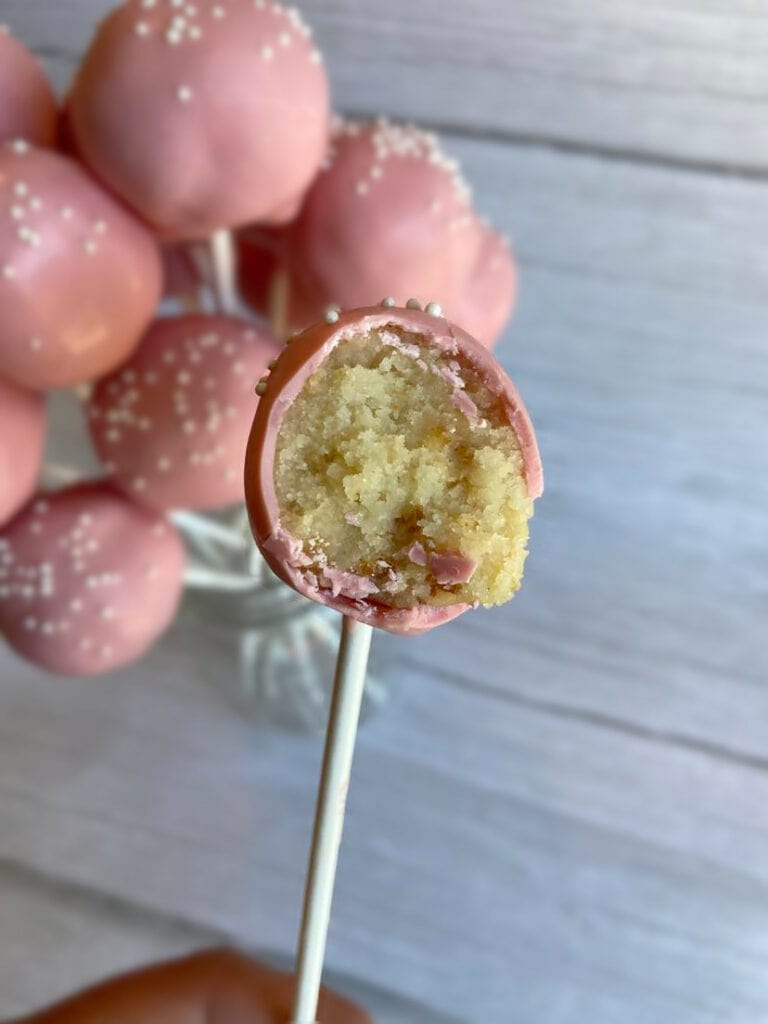 My household loves any peanut butter and chocolate desserts and these have a huge fan base at my house! They have a perfectly chewy peanut butter cookie base, a peanut butter filling, chocolate pudding and whipped cream on top. They are heavenly!
These chunky snickerdoodles offer a gooey surprise inside of the classic cookie with the use of cinnamon baking chips! Luckily these cinnamon chips are seasonal and can be found in most grocery stores during the holidays! If you can't find them in the store they can be found in baker's markets or online.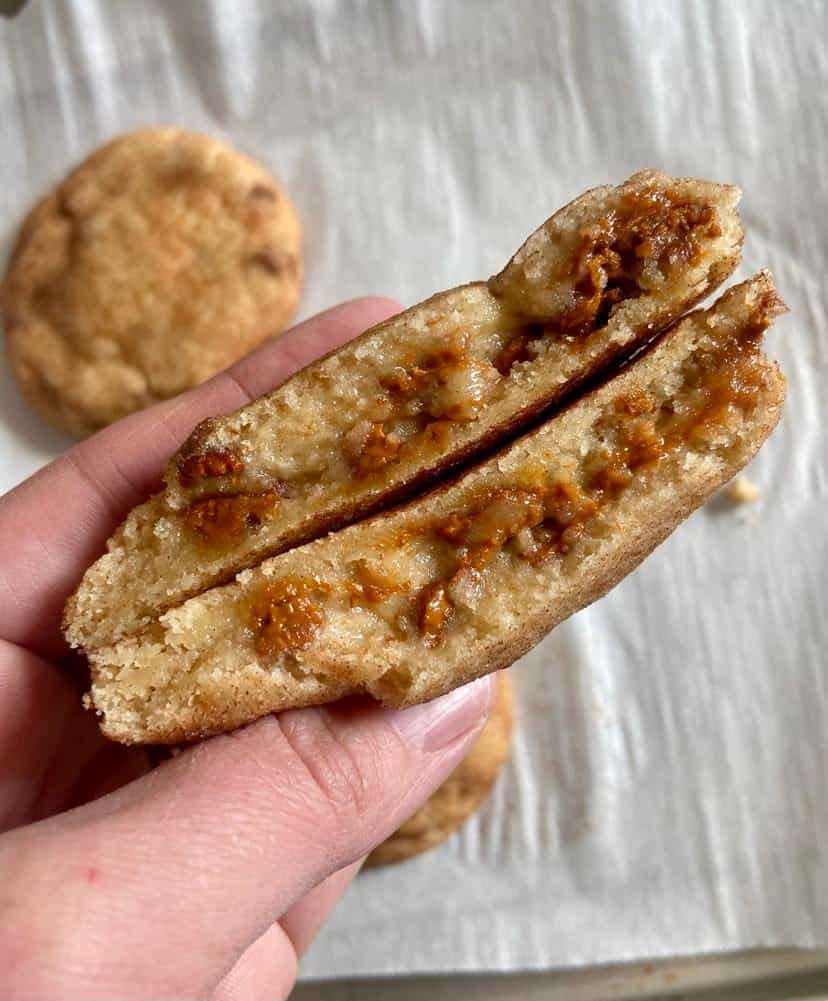 I have been bringing these little bites of happiness with me to potlucks for years! They can be made in no time and topped with so many different toppings, like berries, salted caramel, chocolate sauce or whatever you can think of.
Melt in Your Mouth Sugar Cookies
These sugar cookies are legendary around these parts, my friends and neighbors all know them and love them! Everybody knows when I make them they are gonna be gone quickly, so you better hurry and snag some. I recently did a cookie sale for my kids and we sold so many of these that I baked cookies for a week to meet the demand. They can be dressed up to look festive with a little frosting and cute sprinkles! A true classic!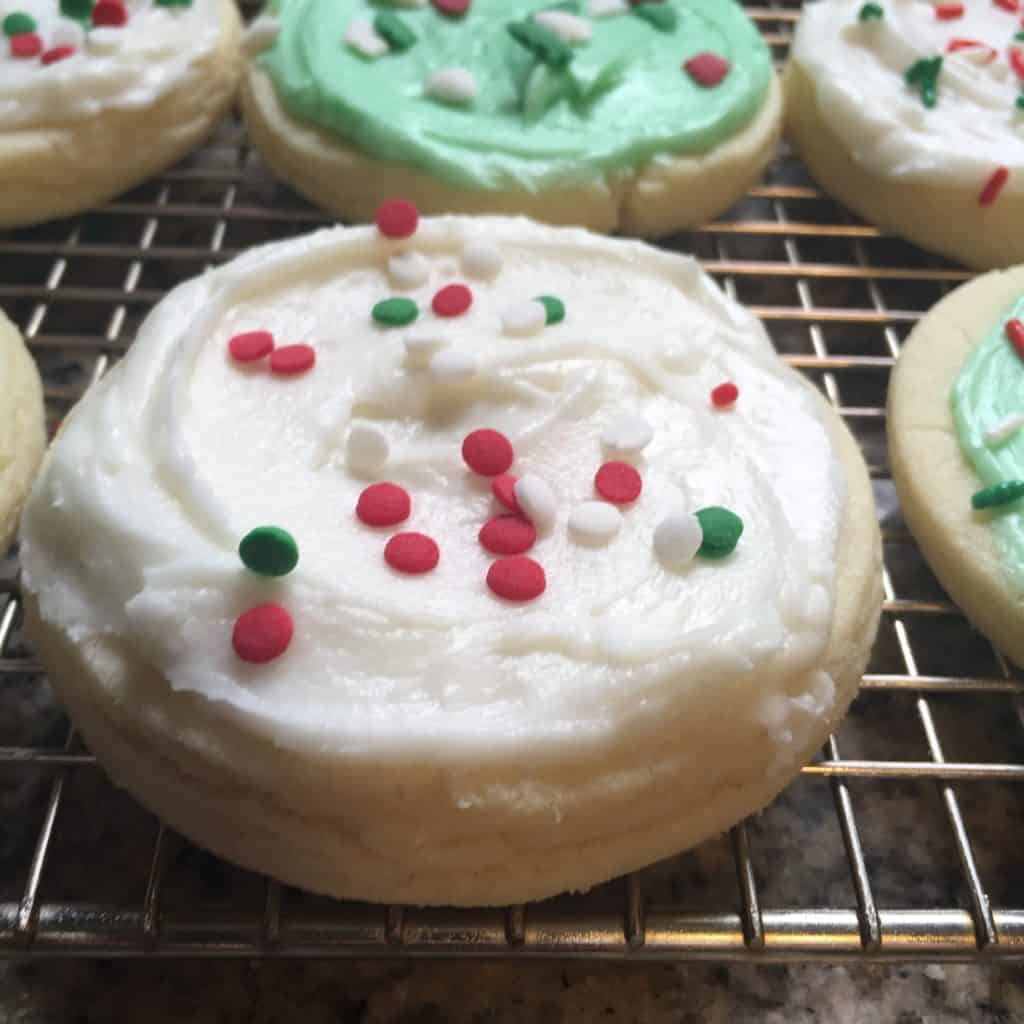 This concludes my list of 25 Christmas Dishes For A Holiday Work Potluck Party and I hope it inspires you to be the star at your next holiday event! Feel free to check out my other recipes on my website or recipes on Norine's Nest and Kelly's kitchen creations, They have some great options!