Here is my list of the 61 best Christmas dinner side dishes for Salmon! Salmon is such a great option for Christmas dinner! It's elegant, delicious, easy to prepare, it's healthy and so versatile.
I love Salmon prepared in so many different ways, from baked, pan seared, smoked, grilled, poached or in sous vide. It's a great canvas for flavors. The sides that can go with it can be just as exciting and versatile. ! Rice, pasta, vegetables, stuffing, rolls and breads are just a few of the great side options that would taste great along side the tender, rich and delicious fish.
Here is my list of 61 Best Christmas Dinner Side Dishes For Salmon:
For the sake of easily finding ideas in my list, I have broken them down in order by the following categories: salad, rice, pasta, baked goods, vegetables and Christmas side classics.
Salad
Salads go perfectly next to a gorgeous piece of cooked salmon, the freshness and acidity from the dressing helps cut through the rich fattiness of the salmon and this makes for the perfect pairing. These are salad's I feel would be fancy enough to sit on my Christmas dinner table and would compliment the fish.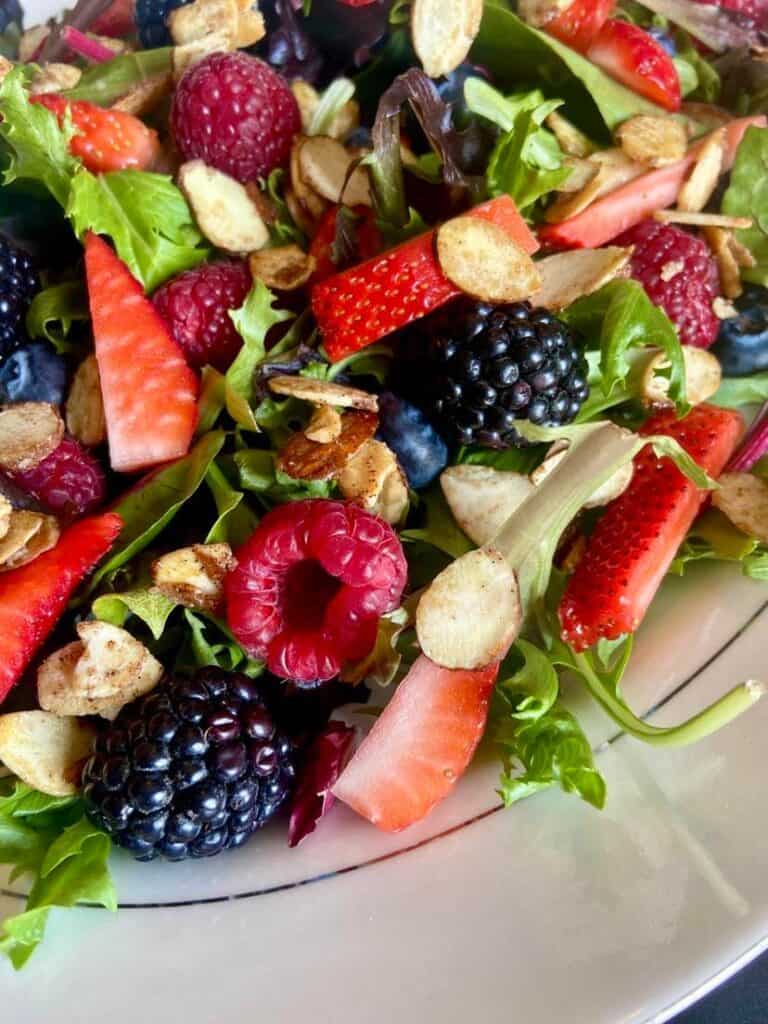 1 – Wild Rice and Kale Salad

I love this salad, it has the best flavor and texture combo, with wild rice, kale, avocado, apple, almonds, goat cheese and more. Then the dressing is a yummy balsamic, cilantro dressing that brings it all together. It's hearty, yet still fresh and the perfect side dish for salmon.

2 – Lemon Blueberry Poppy Seed Salad

This salad screams elegance and special occasion. It's simple yet refined with the bed of spinach, blueberries, lemon zest, parmesan cheese and pine nuts. The dressing is a punchy lemon vinaigrette that wakes everything up and makes you come back for more.
3 – Veggie Chef Salad

I have a soft spot for this salad. It's parmesan white wine dressing is completely drinkable! The ingredient combo for this salad might sound odd but just trust me, it is addictively good! You have crispy jicama, shaved fennel, pickled red onions, avocado, shaved parmesan cheese, cherry tomatoes, glazed nuts and croutons. You are just going to have to trust me that it tastes incredible!

4 – Pear Harvest Salad

This salad is my daughter's favorite! It's a classic, refined salad with pears, feta, pecans, red onions, craisins and a delicious balsamic dressing. Perfect to serve along side salmon.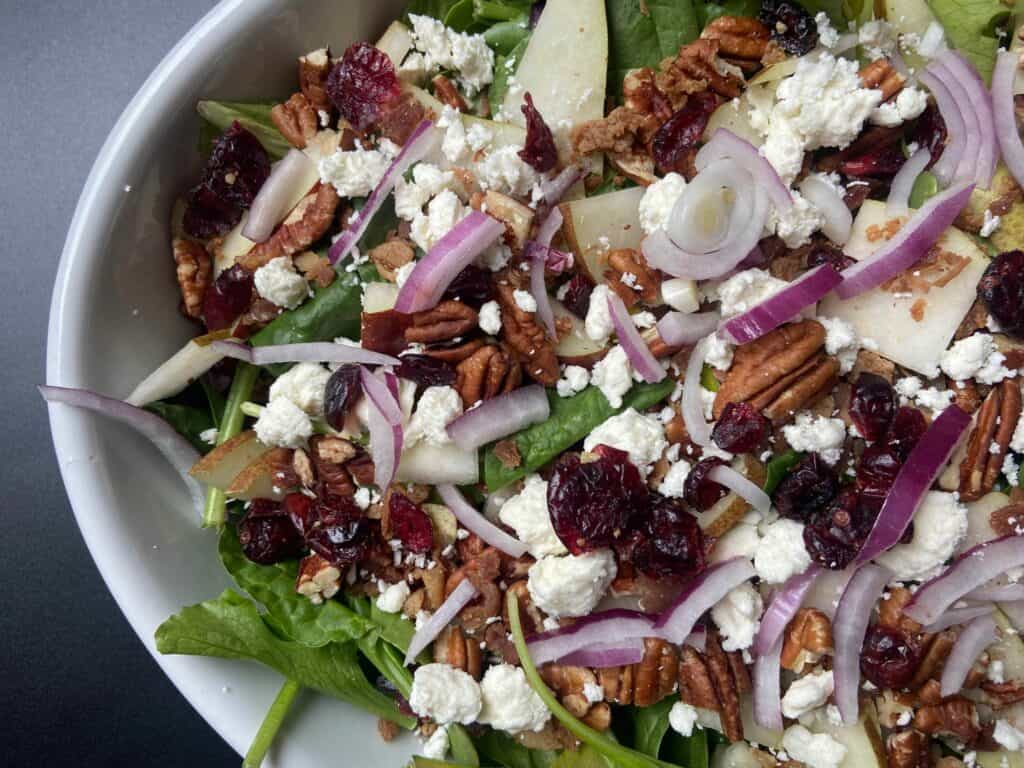 5 – Nuts About Berries Salad

This salad brings the sweet freshness of berries and compliments them with lightly toasted cinnamon almonds and a poppy seed dressing. Simple, yet perfect!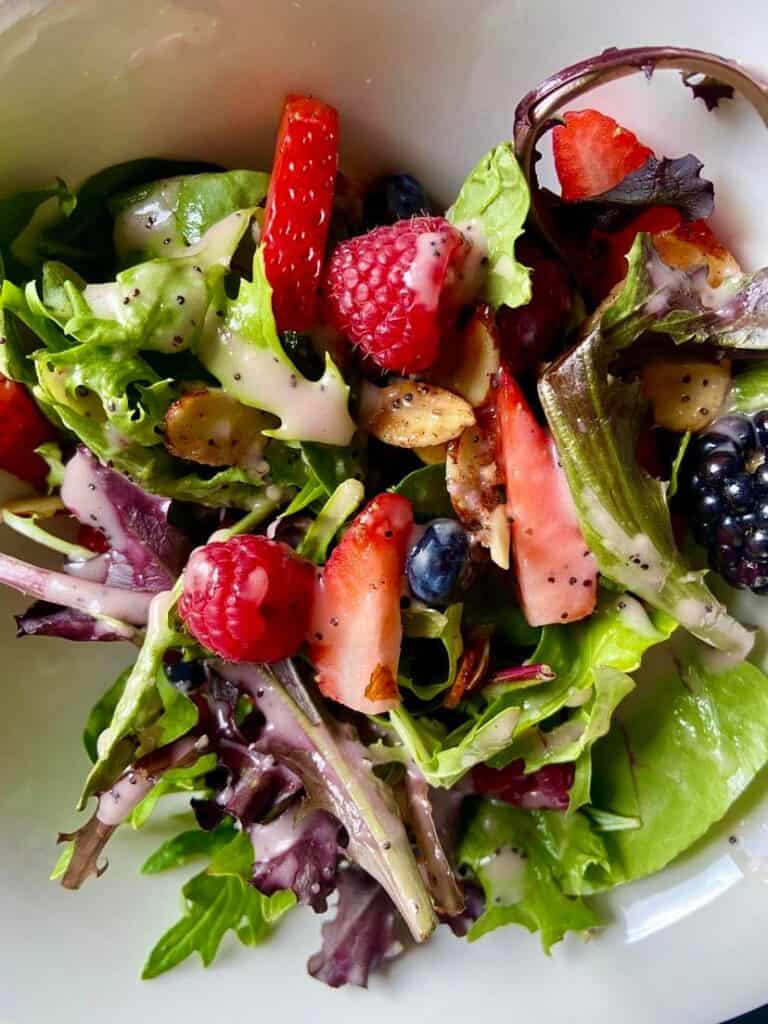 6 – Roasted Beet Feta and Orange Salad

I love the combination of roasted beets and oranges in a salad. This salad delivers on flavor and texture. It's a classic for a reason!
7 – Tomato, Basil and Feta Salad with a Balsamic Dressing

This salad is elegant, simple and delicious. It's title is self explanatory, tomato, basil and feta with balsamic, perfection.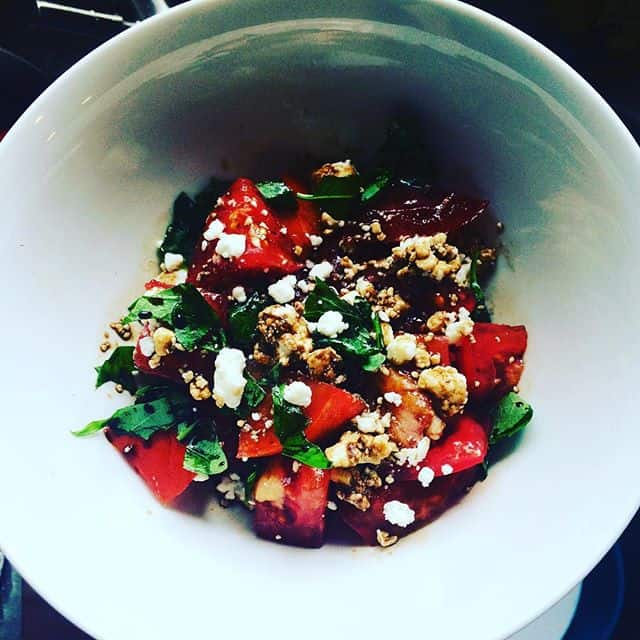 8 – Street Corn Salad

If you are doing salmon is a zesty way, like my Cilantro Lime Grilled Salmon recipe, then this street corn salad would be excellent along side it. The flavors of street corn, in a easy to make and enjoy salad.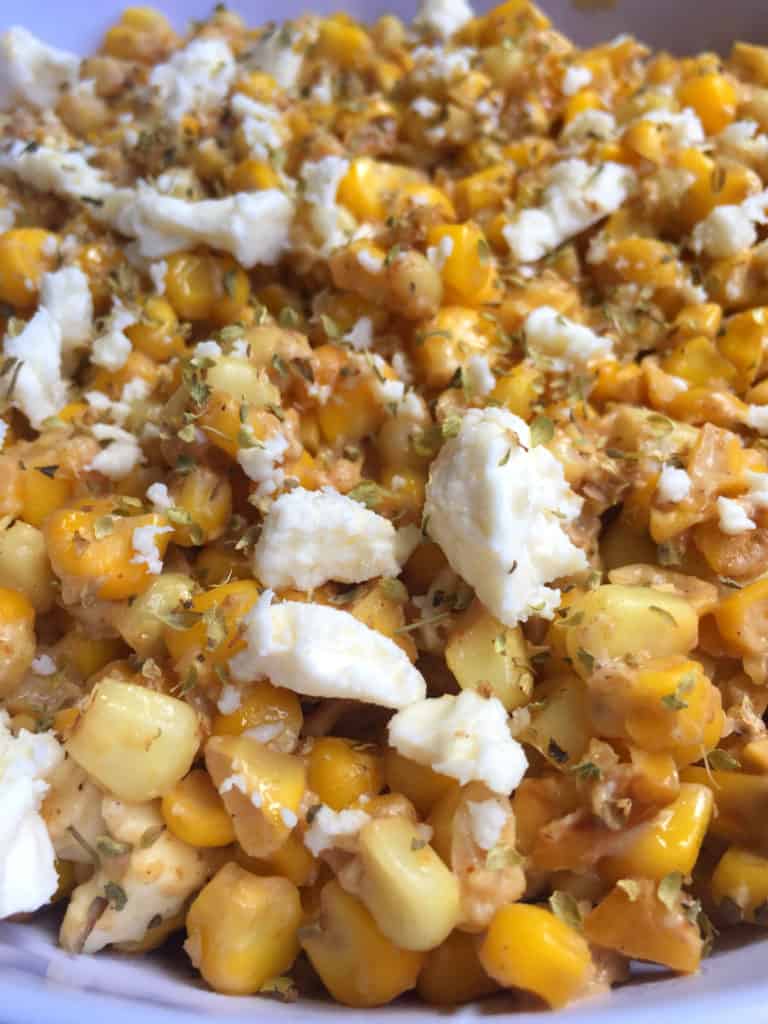 9 – Maple Roasted Brussels Sprout Salad

I make this dish every Thanksgiving and I never get tired of it. The roasted and slightly caramelized brussels sprouts are the star with a few other ingredients that make them shine.
10 – Delicata Squash Salad

This delicata squash salad almost didn't make it long enough on the plate to photograph. I love it! The delicata squash is easy to roast up and gives this salad the perfect winter heartiness!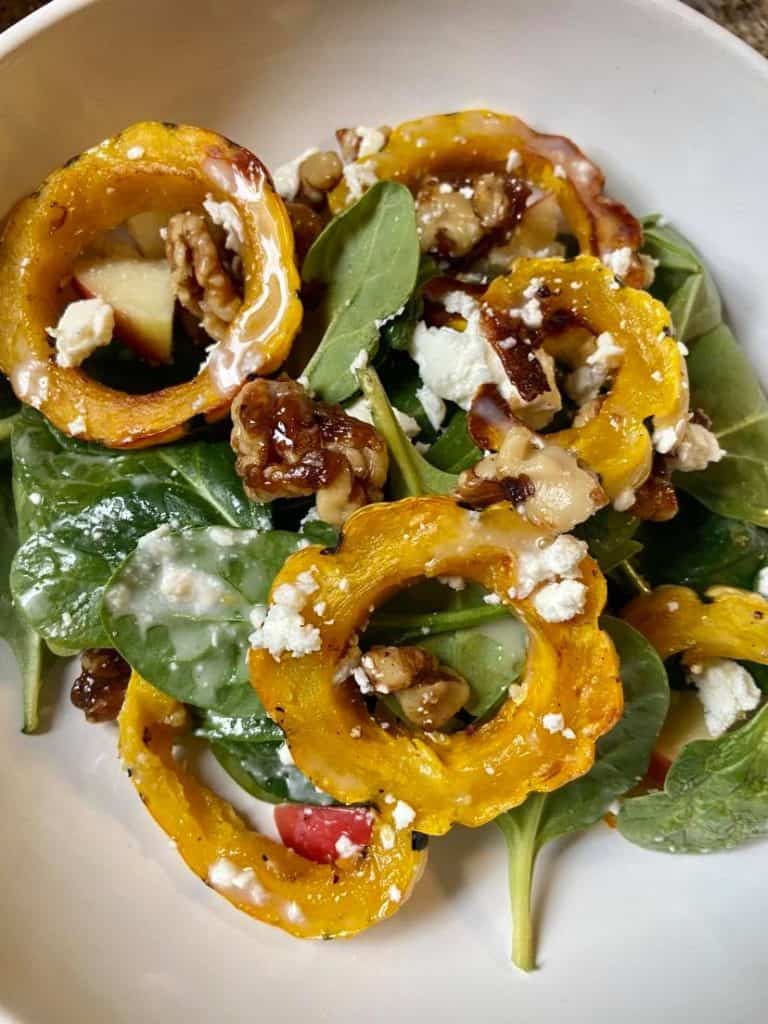 Rice
Rice dishes pair so well with salmon that I had to dedicate a whole section of my 61 Best Christmas Dinner Side Dishes For Salmon list to it. It's a universal food and enjoyed in so many different ways. Here are a few of my recipes that I think would taste fantastic along side salmon at Christmas dinner.
11 – Easy Yellow Rice

This is an easy version of the traditional African yellow rice recipe. It's yellow from the turmeric added and it has a unique and interesting ingredients list like green grapes and capers. It's warming, delicious and would be perfect with salmon.

12 – Instant Pot Cilantro Lime Rice

This cilantro lime rice would go great with some grilled or roasted salmon. My kids love this rice and I love making it in the instant pot for convenience, especially on busy holidays where the oven and stove top might be tied up! You can also make it stove top if desired.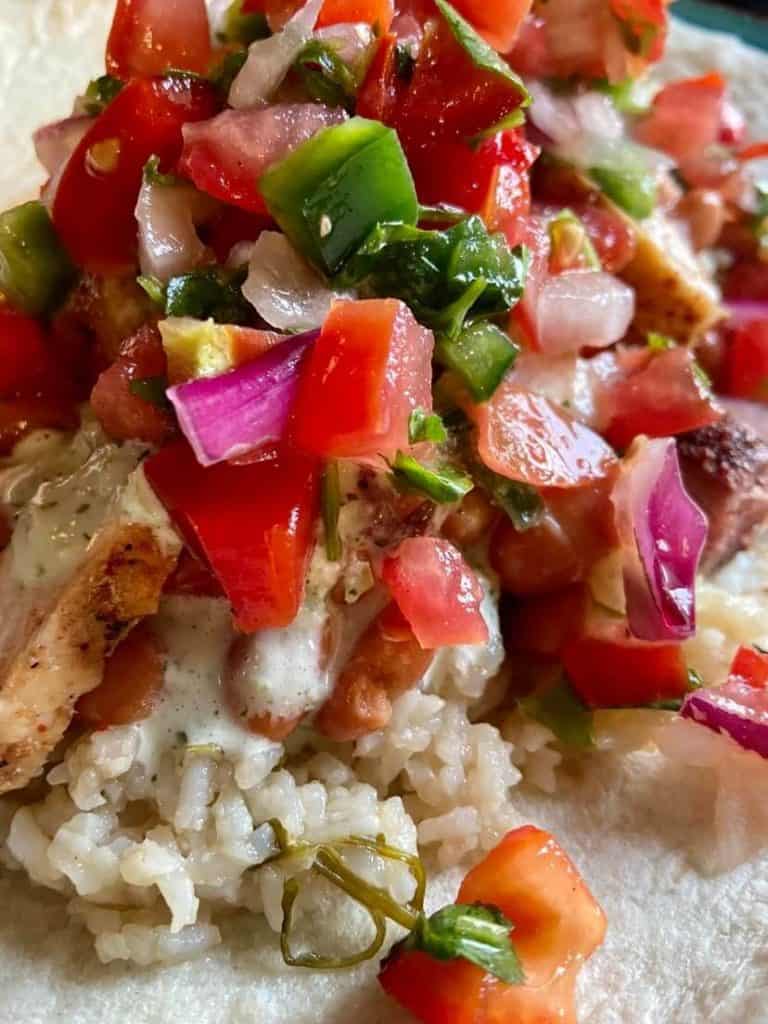 13 – Instant Pot Lemony Rice

Salmon and lemon were made for each other and this instant pot lemony rice is a side dish match made in heaven! It's comforting, bright in flavor and delicious.
14 – Italian Rice Stuffed Tomatoes

These Italian rice stuffed tomatoes are elegant and bring some festiveness to the Christmas dinner table with their beautiful red color. They are perfectly portioned and easy to serve to your guest.

15 – Artichoke, Mushroom And Wild Rice Pilaf

This artichoke, mushroom and wild rice pilaf is simple, elegant and sophisticated all at the same time. It's a beautiful bowl of comforting rice that belongs on a Christmas dinner table.

16 – Stuffed Delicata Squash

This rice dish is featured inside of a roasted delicata squash, which makes it elevated and fancy enough to be served at Christmas dinner.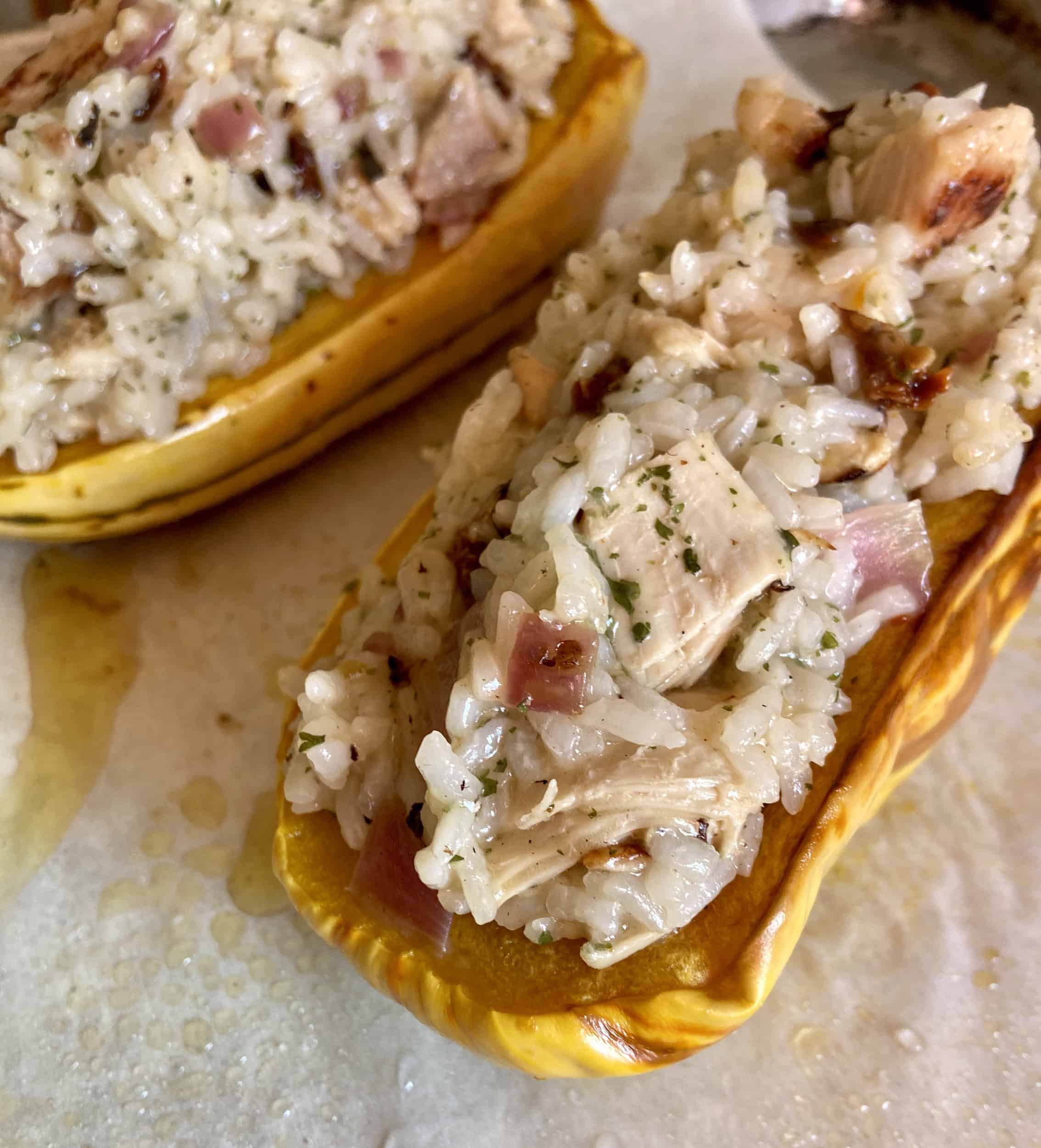 Pasta
Pasta can be a perfect side dish to salmon at Christmas dinner. I've chosen some of my favorite pasta recipes for my list of 61 Best Christmas Dinner Side Dishes For Salmon. These are dishes I think are elevated enough and also pair well with salmon.
17 – Roasted Fennel and Sundried Tomato Pasta

When fennel bulb gets roasted it becomes an entirely different vegetable, it almost resembles an artichoke to me and I love it! This pasta dish celebrates it's flavor along side sun dried tomatoes and the result is comforting and delicious.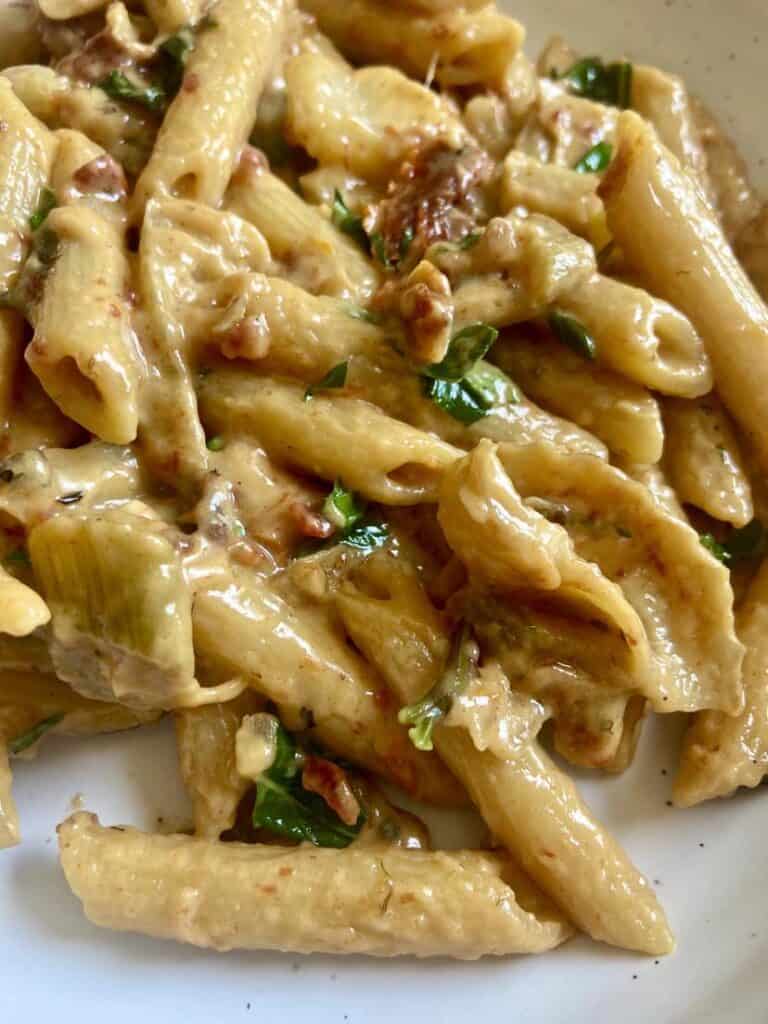 18 – Lemon Cream Pasta With Shrimp

Make Christmas dinner a celebration of seafood with this lemon cream pasta with shrimp. This is my interpretation of a restaurant's dish I had on the beach in California, it was so delicious, I knew I wanted to come home and recreate it. The lemon flavor with beautifully compliment the salmon.

19 – Homemade Mac & Cheese With Real Cheddar

Who doesn't love having a side of mac and cheese at Christmas dinner! Especially if you have kids or picky quest at your table, It's always a safe side dish. Mine makes enough for a huge crowd!
20 – Roasted Chili Baked Ziti

I love roasted chili peppers and this pasta dish celebrates them in a rich cheesy sauce with crispy bread crumble on top.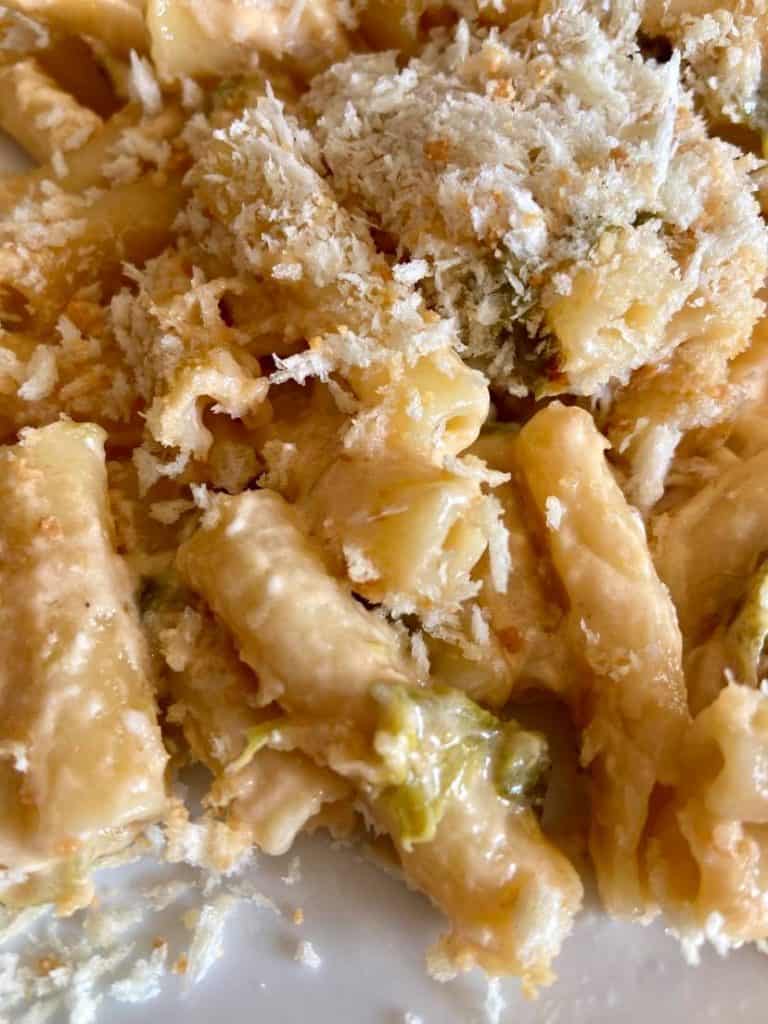 21 – Butternut Squash Lasagna

This is technically not a pasta dish because the butternut squash is used in place of the noodles, however, it tastes like a traditional lasagna. For that reason it ended up in this category. It's perfect for those carb watching family or friends at your Christmas dinner table.
22 – Sausage and Mushroom Lasagna

This sausage and mushroom lasagna brings heartiness and flavor to the Christmas dinner table. I won't say they could be eaten in the same bite as the salmon, however, they both could grace the same plate and have everyone eating happily still.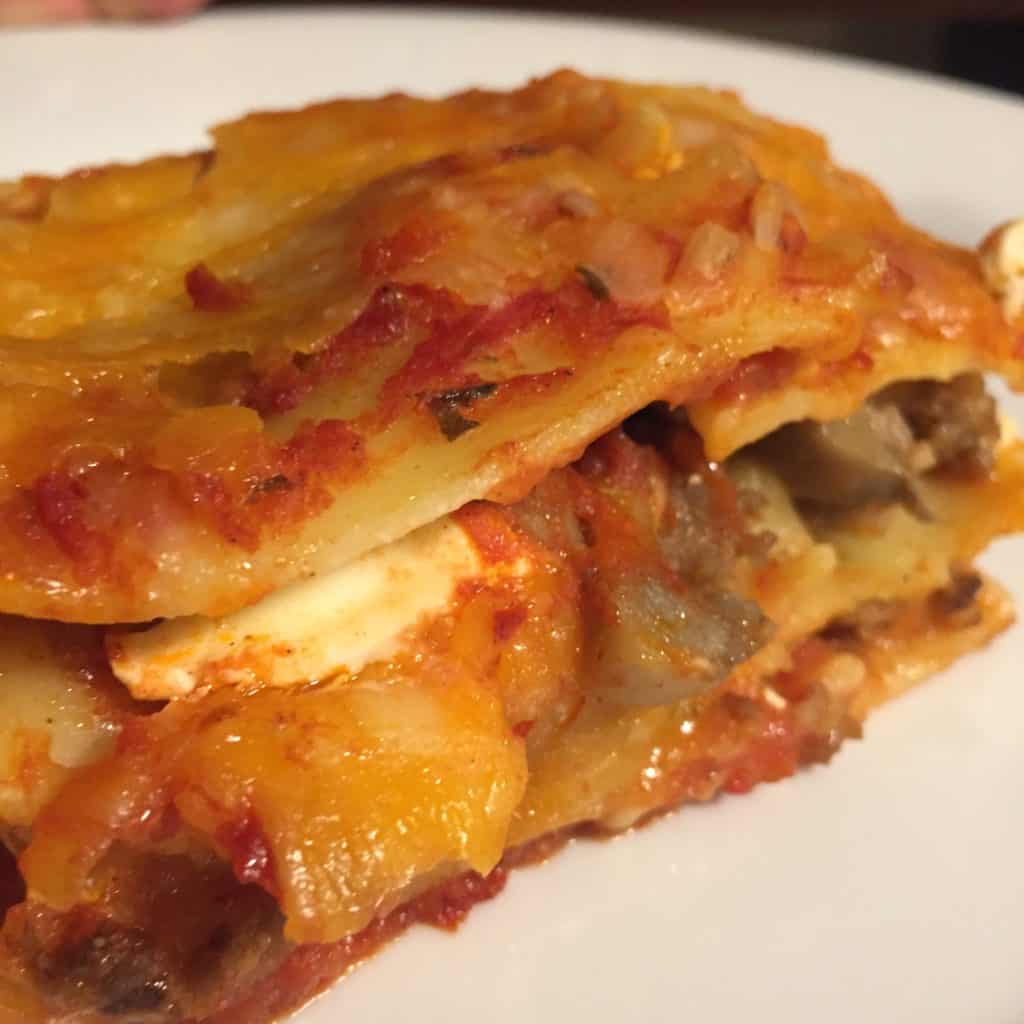 23 – Roasted Fennel and Ricotta Pasta

This simple meatless pasta dish again celebrated the flavor of roasted fennel and pairs that with ricotta cheese and lemon. It's a great combo and perfect to serve with salmon on Christmas.
24 – Orzo Pasta Salad

This pasta salad is fresh, elegant and an excellent choice to have along side salmon.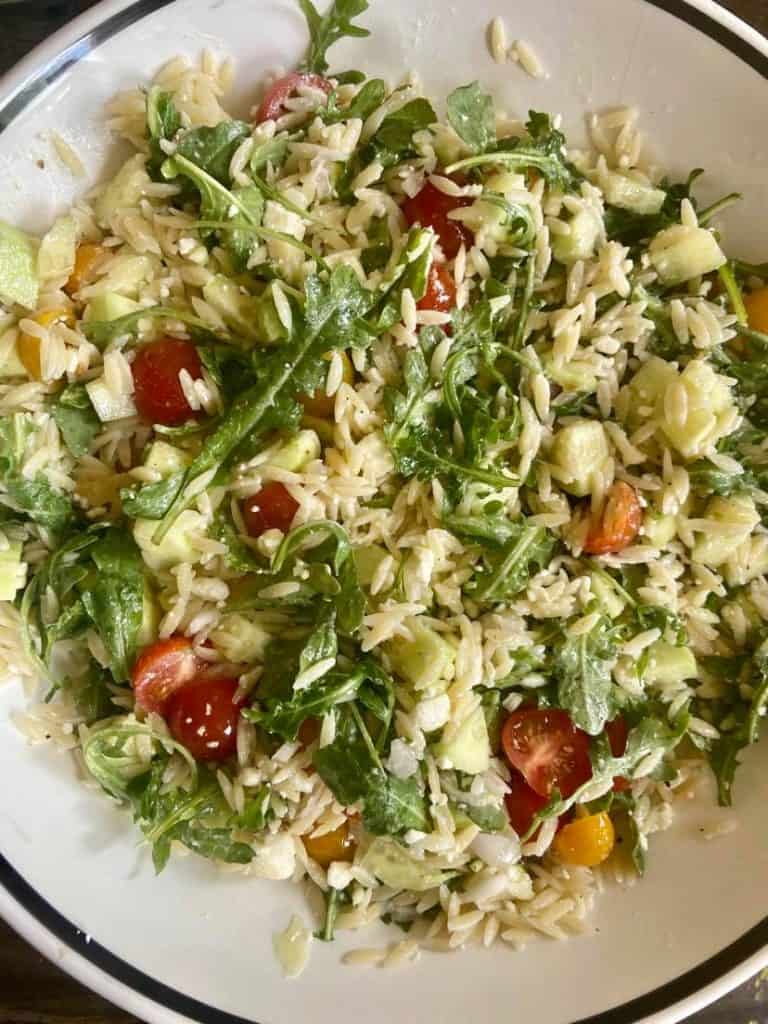 25 – Fully Loaded Pasta Salad

This pasta salad holds nothing back, It's called fully loaded for a reason, It's got everything you would ever want in an Italian style pasta salad like cucumbers, olives, cheese, artichoke hearts, herbs, and sundried tomatoes to name a few.
26 – Pumpkin and Sausage Lasagna

This creamy, cheesy lasagna is decadent and hearty and celebrates pumpkin in it's sauce with sausage and pasta in this special occasion lasagna.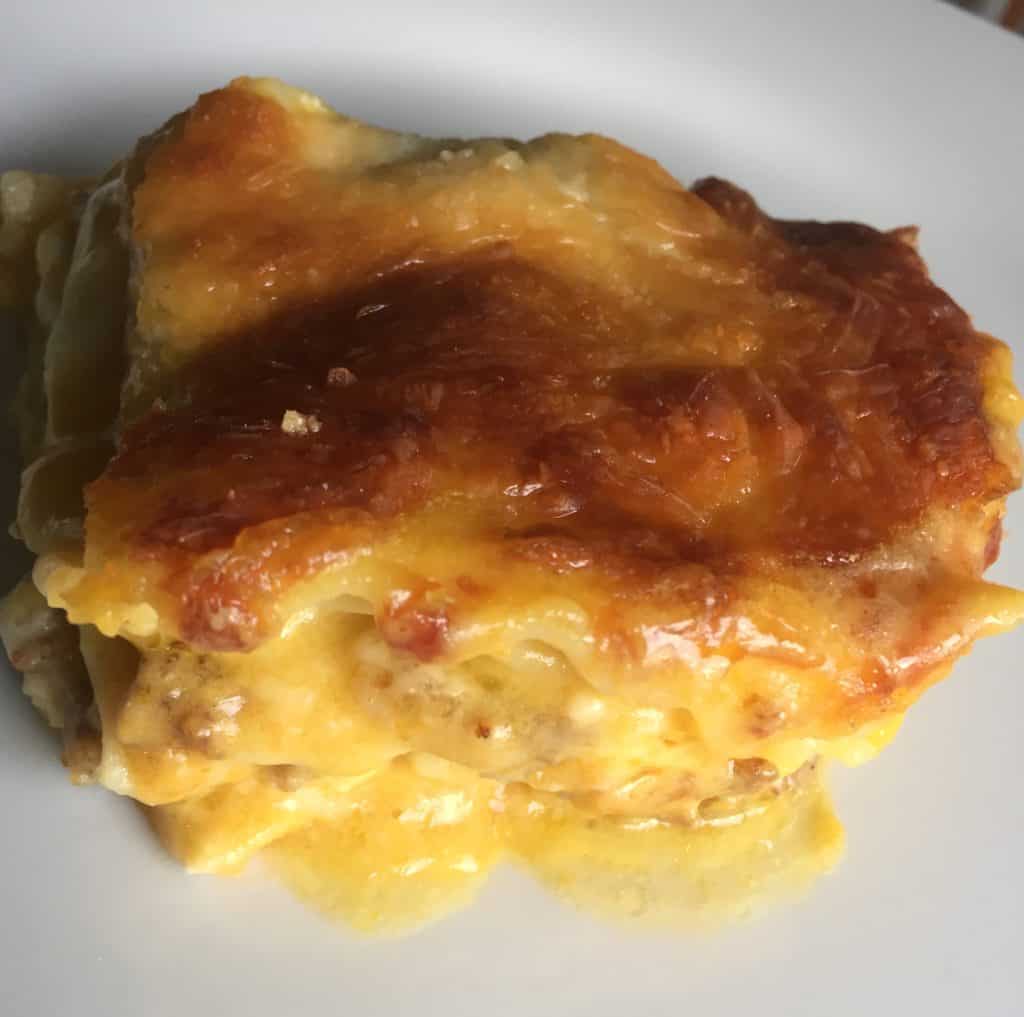 27 – Lemon Caper and Artichoke Spaghetti

Lemon, caper and artichoke spaghetti has all of the flavors that compliment salmon! It's simple to make, looks elegant and tastes delicious.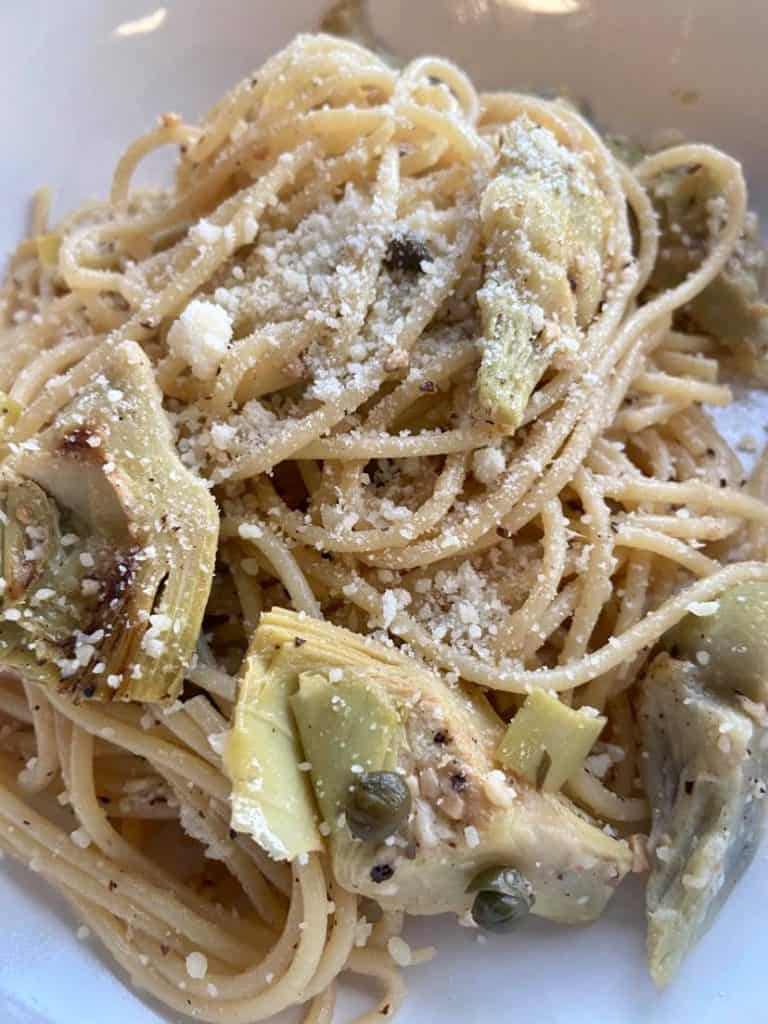 Vegetables
I love vegetables! They make the best side dishes and Christmas dinner is no exception! I look forward to vegetable side dishes every holiday season! Here are a few of my favorites that go great with salmon.
28 – Roasted Cauliflower with Creamy Dill Sauce

The combination of roasted cauliflower and creamy dill sauce is one of my favorites! Roasting the cauliflower amplifies it's flavors and the dill sauce compliments those flavors so beautifully.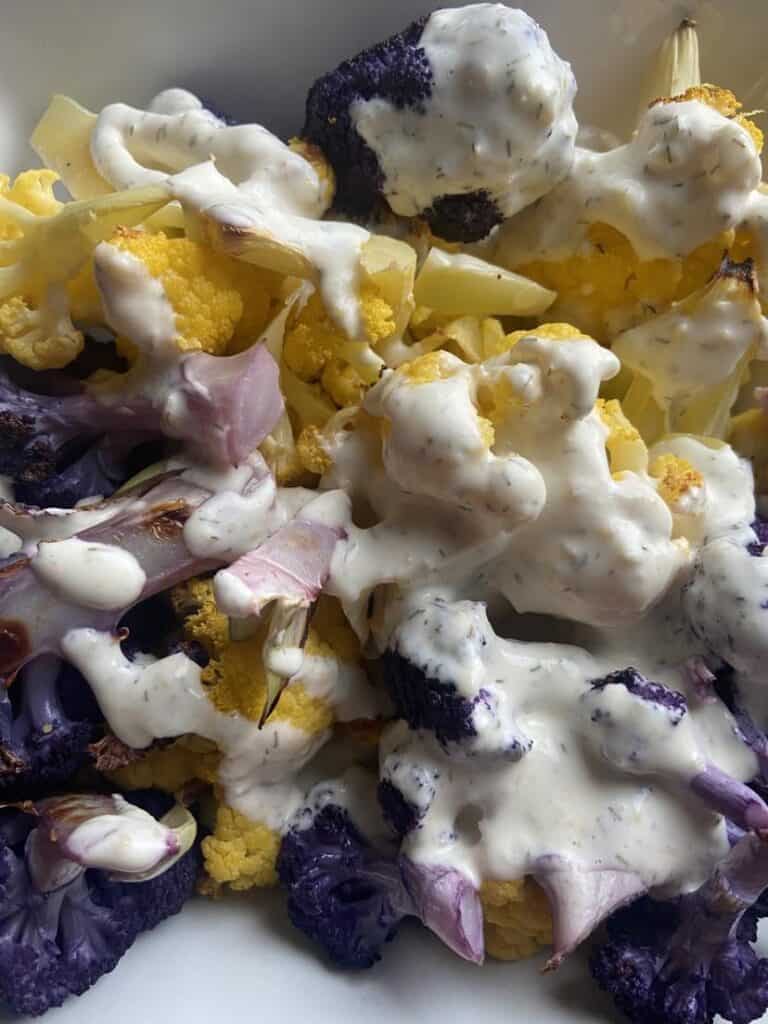 29 – Parmesan Smashed Potato Salad

This parmesan smashed potato salad is served warm and it's scrumptious! Great for a salmon dinner side dish.
30 – Dill, Bacon and Potato Soup

I feel like serving a soup along side salmon is perfectly acceptable for Christmas dinner. Serve it as a appetizer or side and it helps create a full dining experience.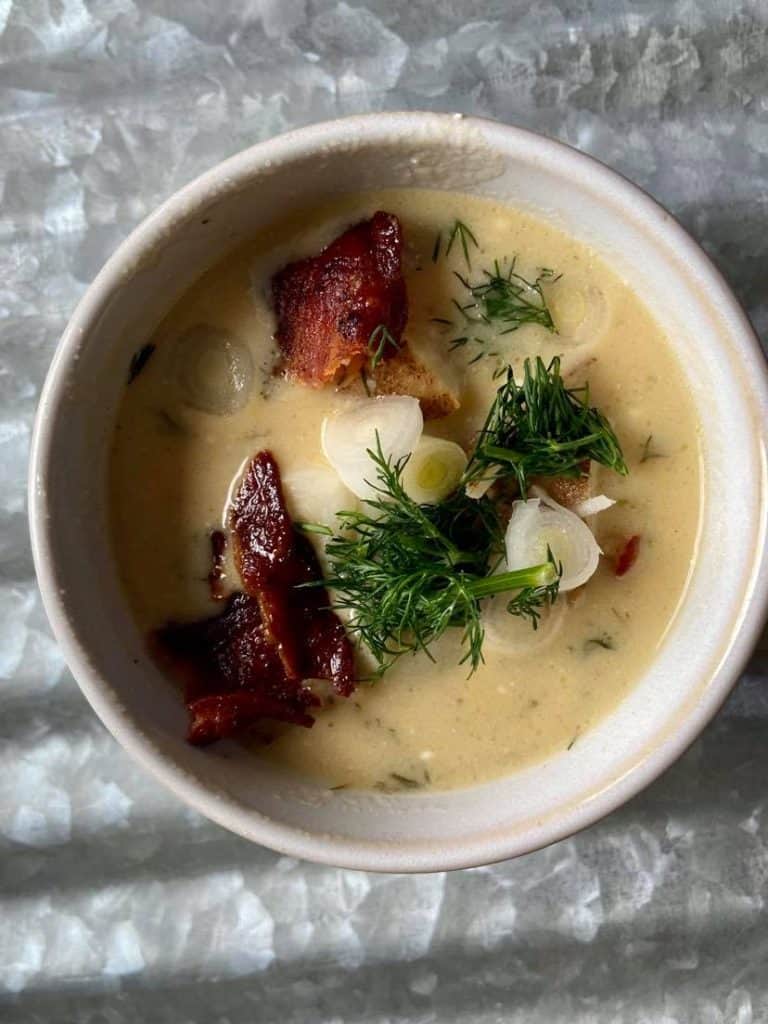 31 – Roasted Kabocha Squash

Kabocha Squash is a variety of pumpkin that is often seen in Asian countries, It has a tender and delicious flavor. I love to roast it and serve with a drizzle of natural maple syrup.
32 – Greek Party Poppers

Greek salad, hummus and naan bread bites, This side dish doesn't get old and is a great finger food to serve as an appetizer too.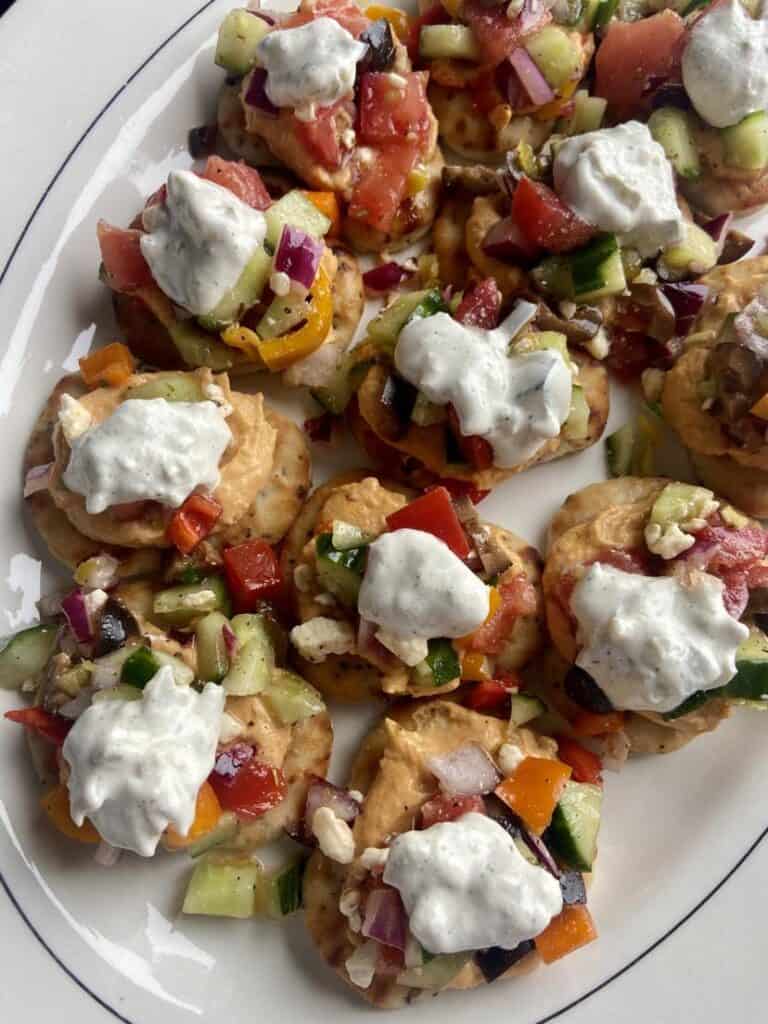 33 – Tomato Bruschetta

Diced tomatoes, garlic, basil and olive oil make up this delicious side dish. Serve with fresh bread. Yum!
34 – Mushroom Bruschetta

Mushroom bruschetta is a fun twist on the traditional tomato bruschetta and included chopped mushrooms, garlic and olive oil. It's great with warm bread.
35 – Herbs De Provence Potato Wedges

Think of these as fancy oven baked fries. The Herbs de Provence will elevate the flavors and make this dish up to the task of gracing a Christmas dinner table.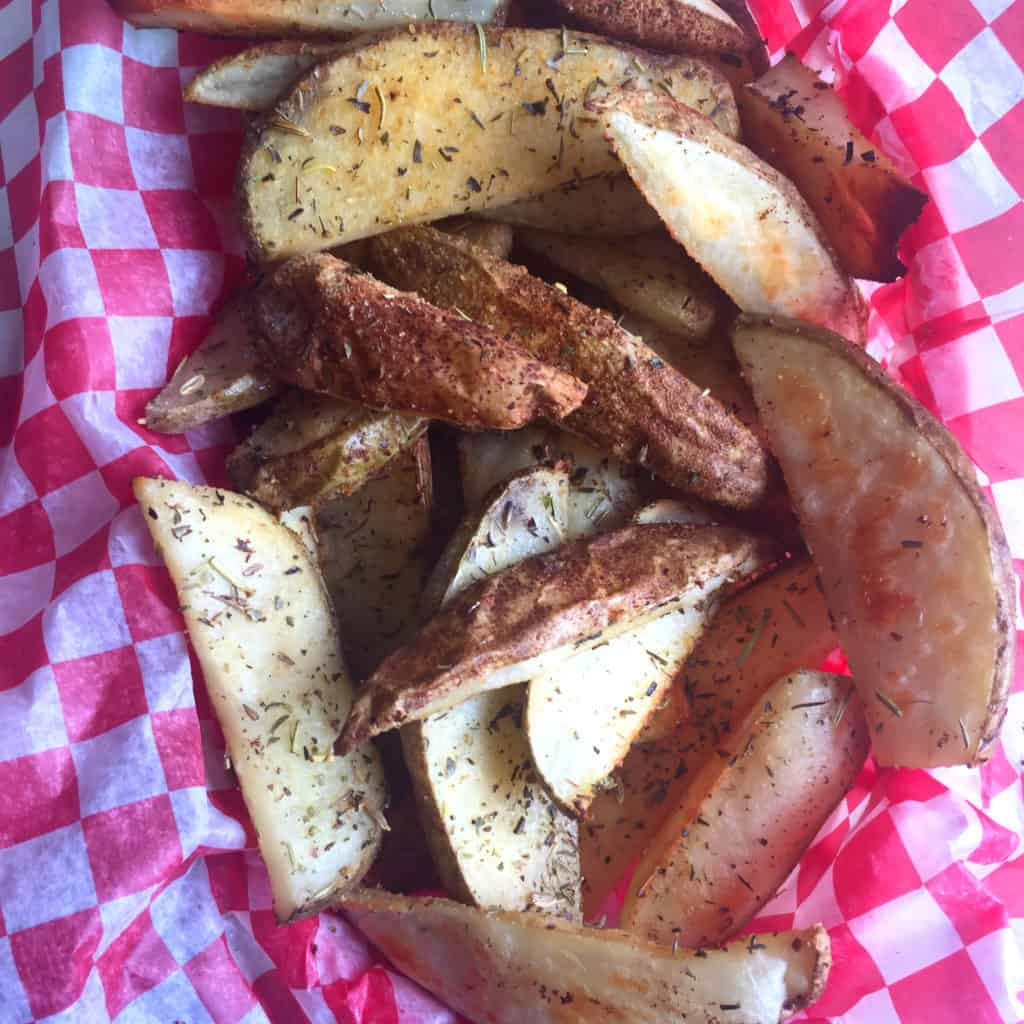 36 – Smashed Garlic Potatoes

Garlic smashed potatoes are buttery, crispy and delicious! Perfect for Christmas dinner.
37 – Instant Pot Butternut Squash Soup

If you want the flavors of the holidays in one soup, this is it! It's buttery, flavorful and great as a side dish or appetizer to a salmon Christmas dinner.
38 – Vegetable Alfredo Bake

I originally crated this dish to be a keto dish, which it is. It is also a great way to prepare vegetables for a special dinner.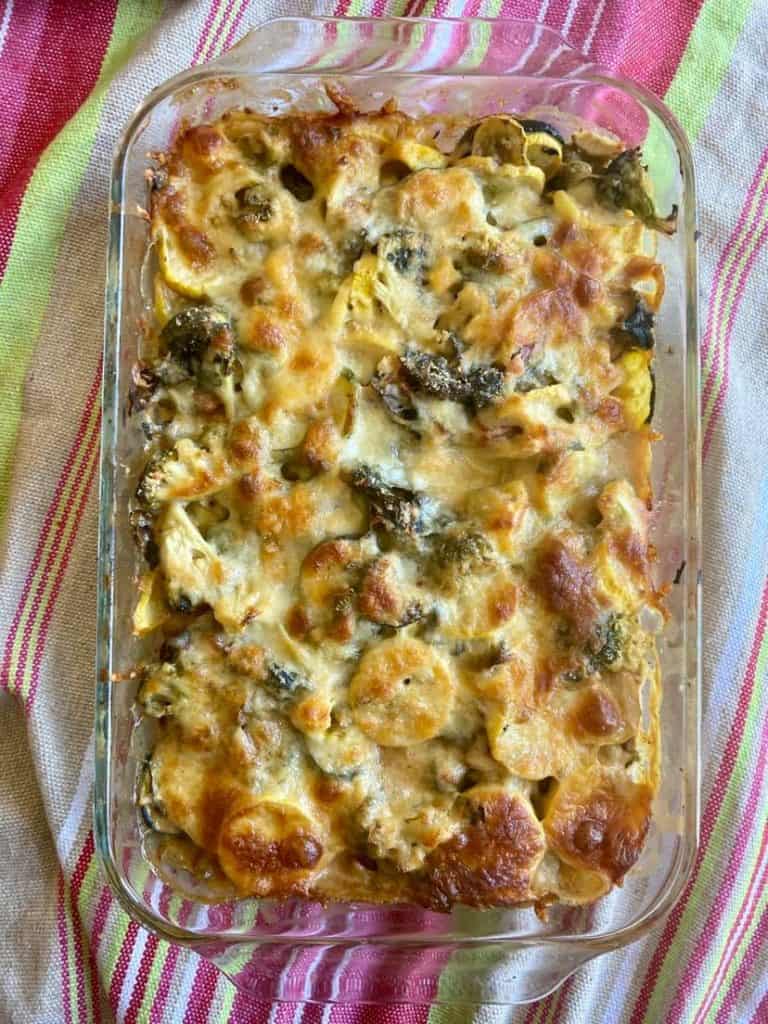 39 – Sweet and Sour Brussels Sprouts Stir Fry

This would be great if you are preparing your salmon with an Asian flavor flare. It's got brussels sprout which as a holiday favorite but then they get a fun sweet and sour twist.
40 – Harissa and Tahini Roasted Cauliflower

I love this recipe! The combination of harissa and tahini is scrumptious and delectable!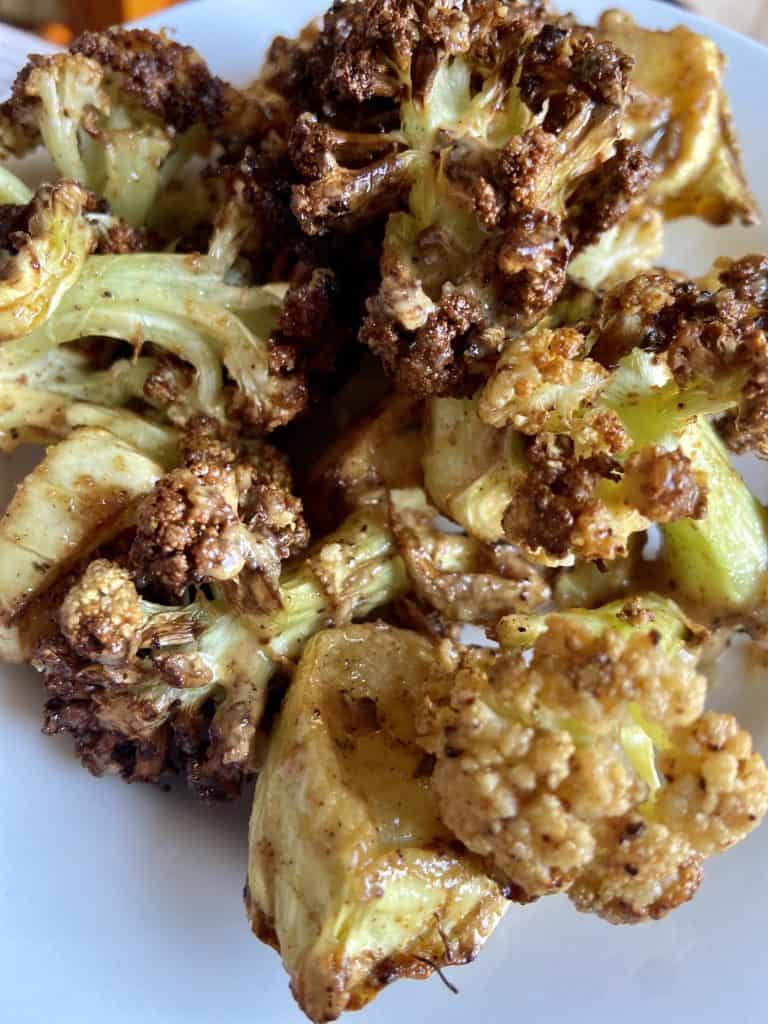 41 – Maple Bacon Stuffed Acorn Squash

This recipe is fancy, delicious and screams Christmas dinner!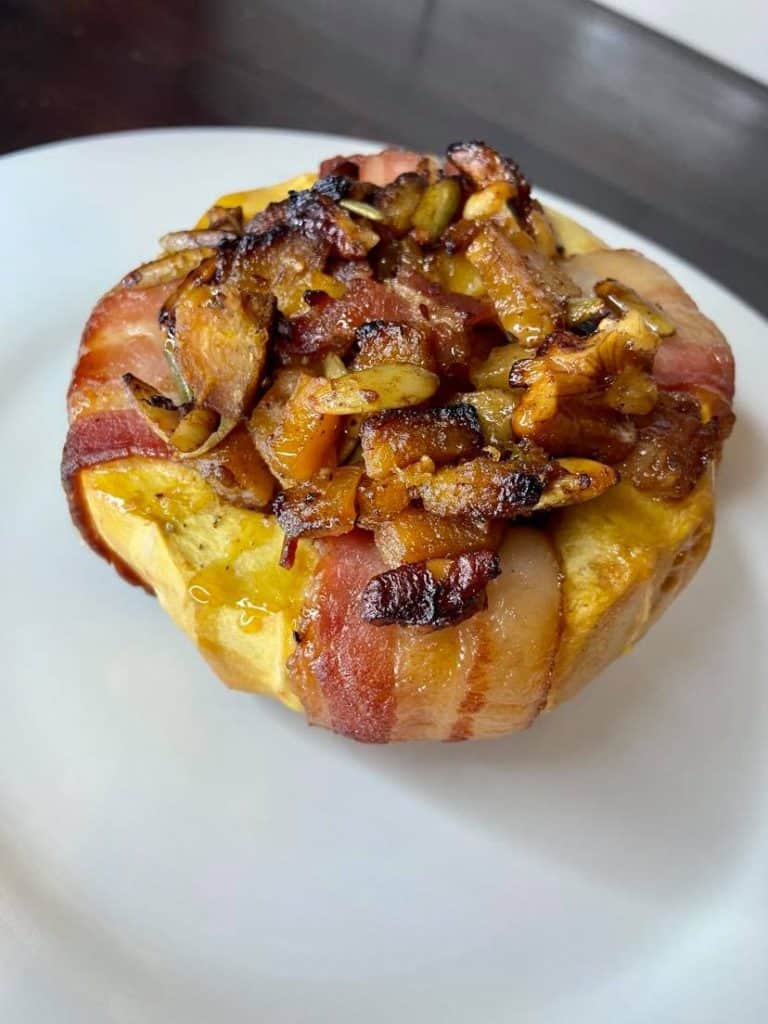 42 – Garlic and Lemon Roasted Romanesco

Romanesco is a beautiful variety of cauliflower, It has signature spirals that perfectly reflect the Fibonacci sequence. Flavor wise it is slightly nutty and tastes great with lemon and roasted garlic.
43 – Honey and Harissa Roasted Carrots

These honey and harissa roasted carrots are a Christmas classic at my house. I love roasted carrots and this recipe gives them a slightly smoky and sweet heat that really sets them apart.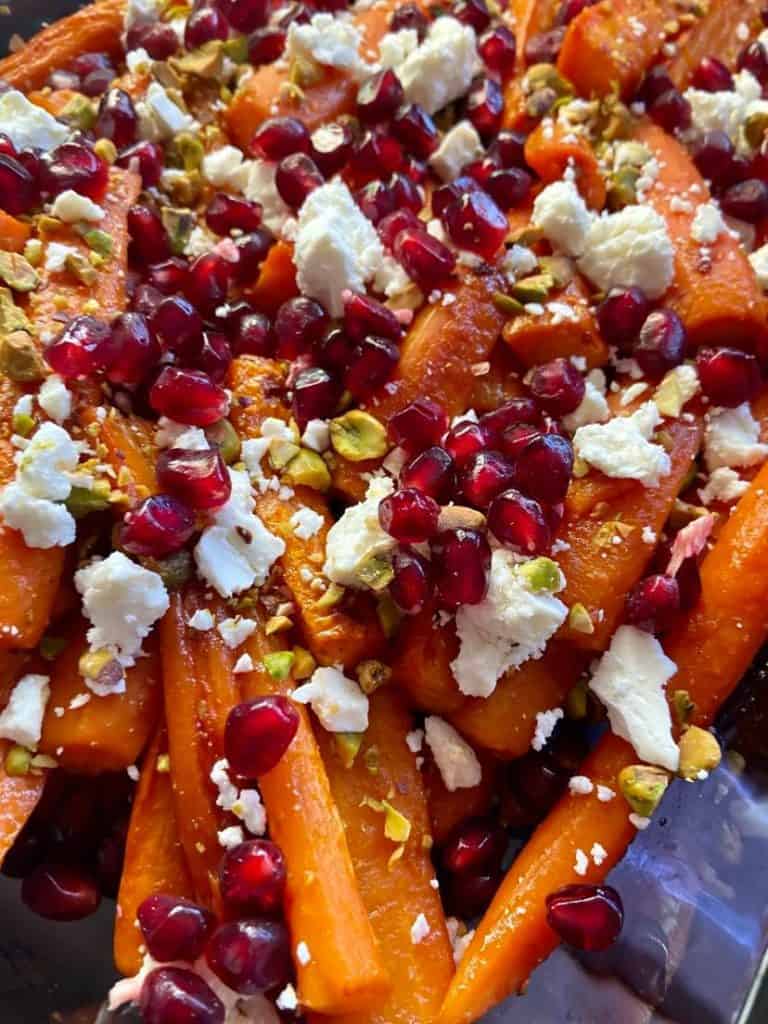 44 – Air Fryer Twice Baked Potatoes

Twice baked potatoes have a fluffy and tender interior of buttery, herbed mashed potatoes inside of a roasted baked potato shell. The sir fryer does a great job at giving these a great texture.
45 – Sesame Brussels Sprouts

Another fun Asian twist on brussels sprouts in this tasty sesame brussels sprout side dish.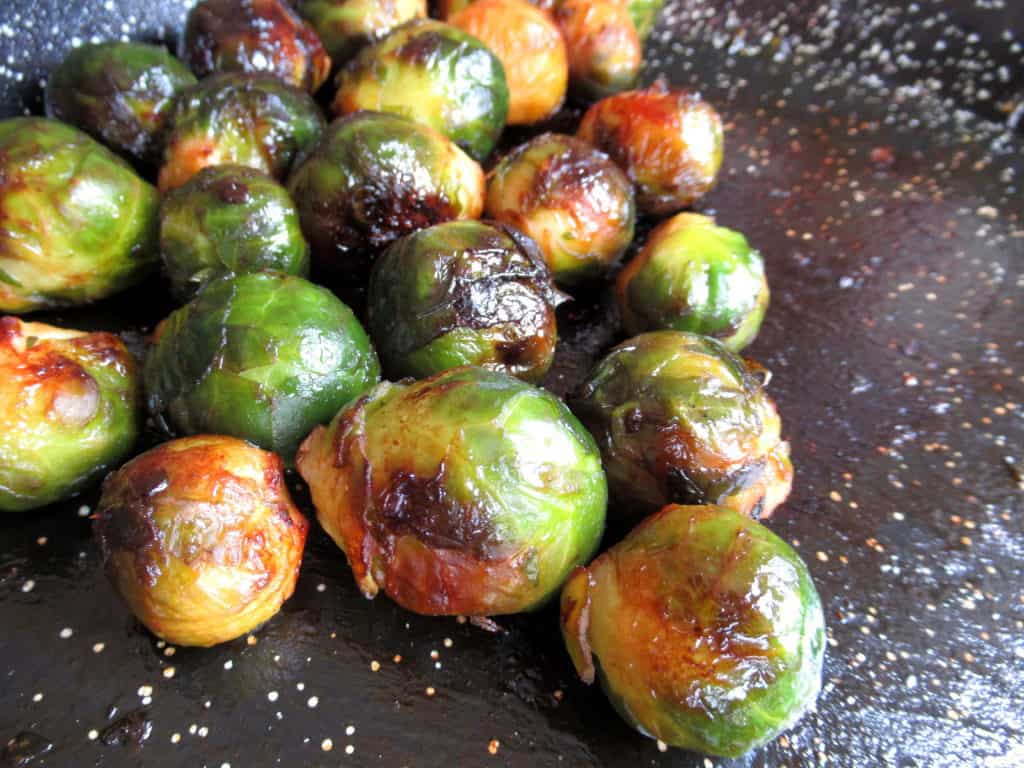 Baked Goods
Would it be the holiday season without baked goods? No, it would not! That is why they made it onto my list of 61 Best Christmas Dinner Side Dishes For Salmon. Baked goods are one of the ultimate ways to show love and the holidays are all about love! Here are a few of my favorite baked goods to serve at Christmas dinner.
46 – Sweet Potato Dinner Rolls

Combine the beautiful flavors of sweet potatoes and dinner rolls in these soft and delicious dinner rolls that have the best texture!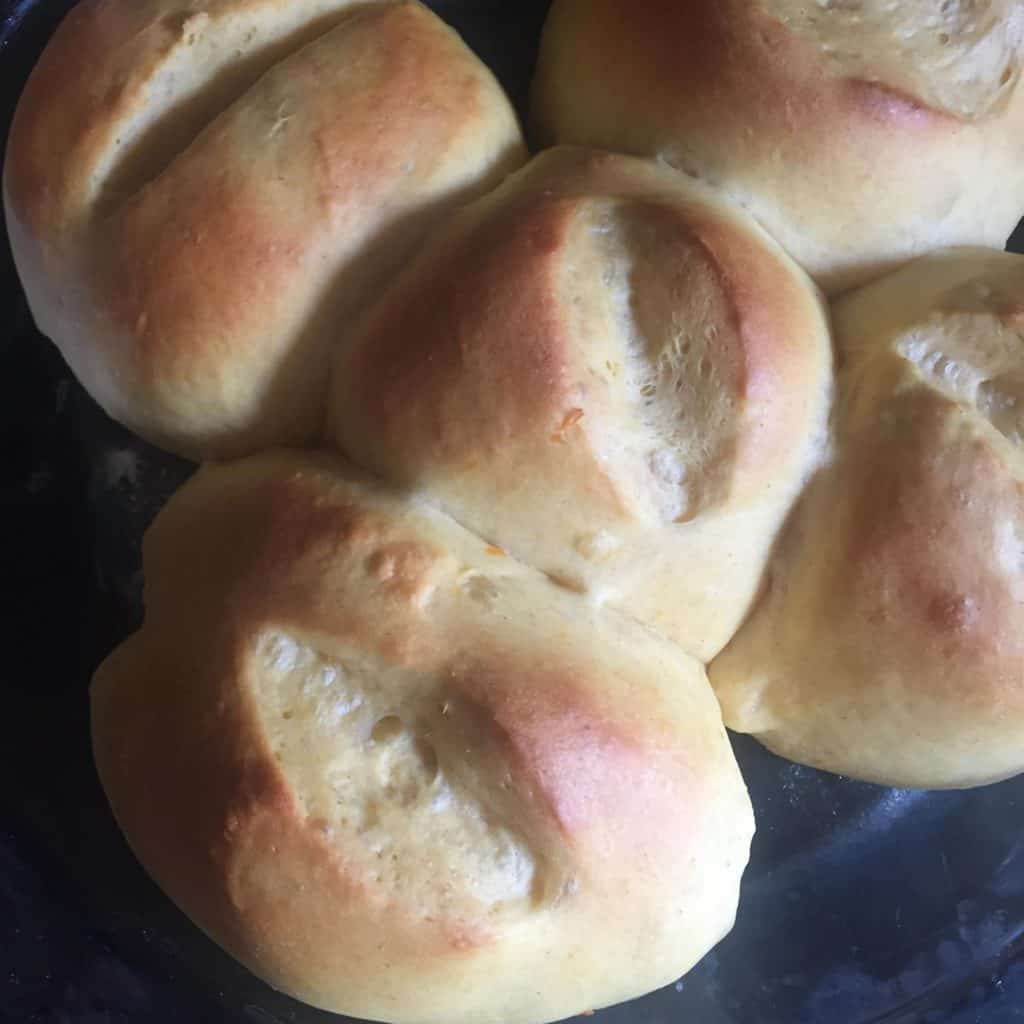 47 – Overnight Rolls

Christmas is a busy time so these overnight rolls make homemade rolls a reality! They also get a little extra goodness from the time they spend in the refrigerator and the slow rise.
48 – Grandma Style Butter Rolls

These are the ultimate buttery dinner roll. They are rolled up like a cinnamon roll would be but the filling is butter and trust me when I say that the butter does it's job by melting into the dough in a delicious way.
49 – Healthy Sweet Potato Muffins

Add the the holiday classic sweet potatoes to a muffin and you have a delicious and perfectly festive side dish.
50 – Pellet Grill Cornbread

This classic cornbread is baked on a pellet grill and gets a nice smoky goodness to it that can perfectly compliment a grilled or smoked salmon.
51 – Soft And Chewy Pretzel Rolls

These pretzel rolls will win the Christmas dinner table with their soft and chewy exterior and melt-in-your-mouth interior. Well worth the little extra effort they require, pro tip, make the dough ahead of time and freeze it until the big day.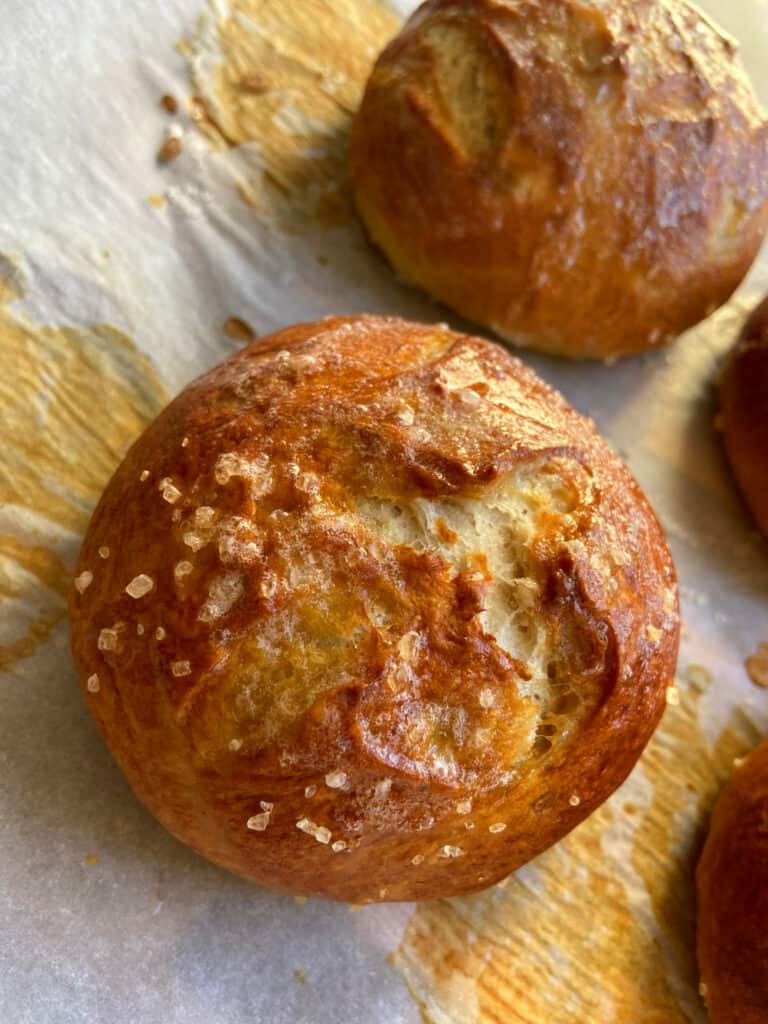 52 – Zucchini and Swiss Cheese Matafan with Herbed Butter

A matafan is like a thick and rustic pancake. This French recipe is filled with zucchini and swiss cheese and topped with herbed butter. If you are looking for something unique and tasty then this is a great option!
53 – Gluten Free Pumpkin Blender Bread

This bread is sweet, spice filled and has the best texture. It's a tasty side or appetizer for Christmas dinner and extra bonus is that it's gluten free.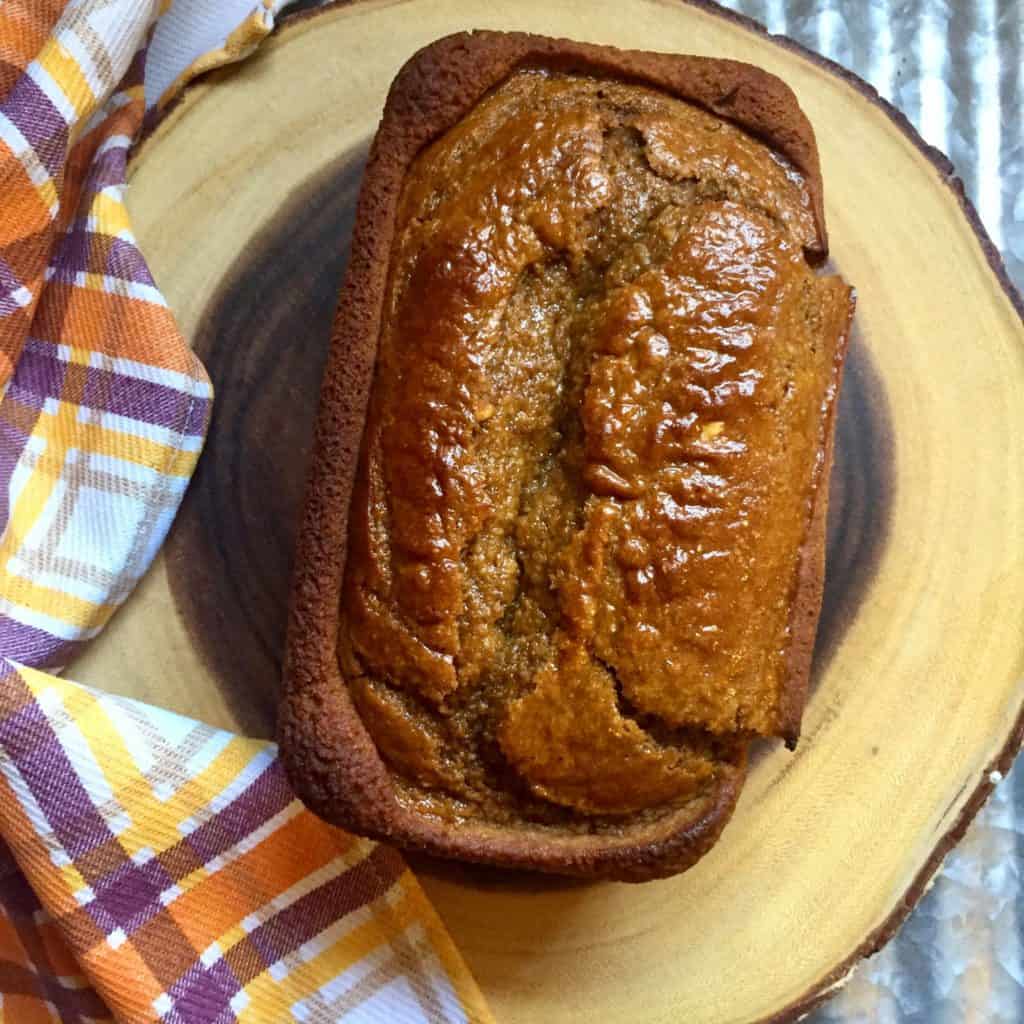 54 – Avocado And Sundried Tomato Bites

This is a super easy to make homemade flatbread that gets topped with avocado, cilantro, sundried tomatoes and balsamic glaze. The flavors will leave your guests saying yum! Well worth the effort.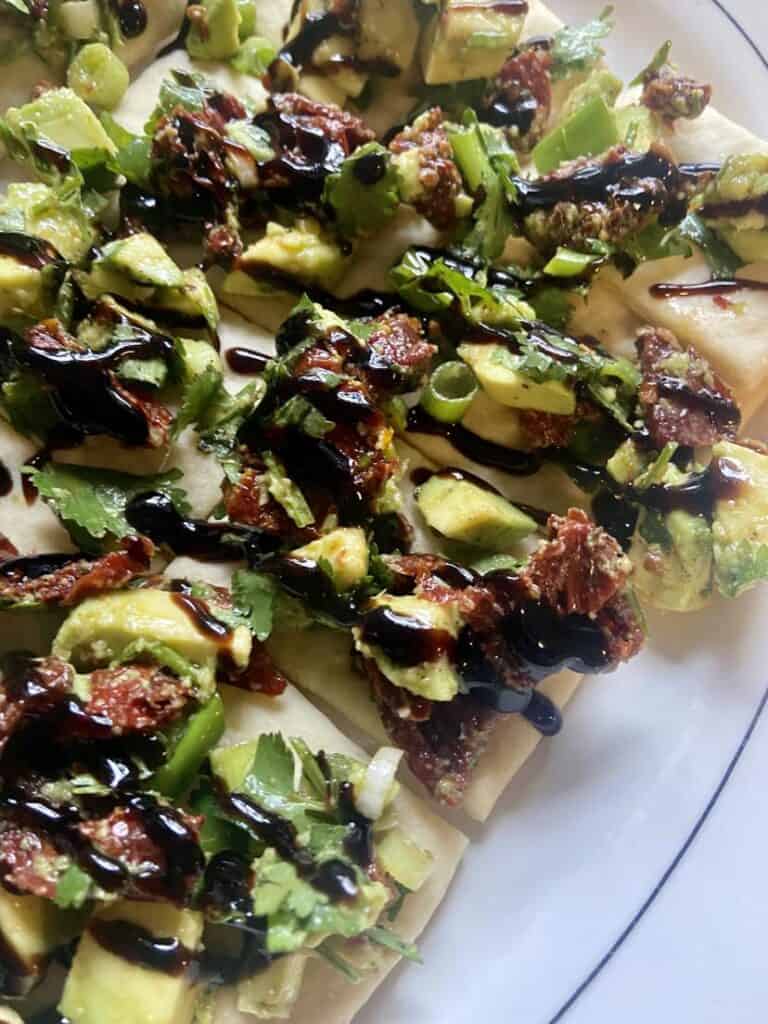 55 – Pesto and Sundried Tomato Focaccia

This pesto and sundried tomato focaccia is the perfect bread dish to go along with an Italian style salmon dish. It's robust with flavors and you can't beat the focaccia texture.
56 – Pumpkin Cornbread

This recipe has my heart, It's just plain scrumptious! It's moist, flavorful and one of my favorite fall and winter side dishes.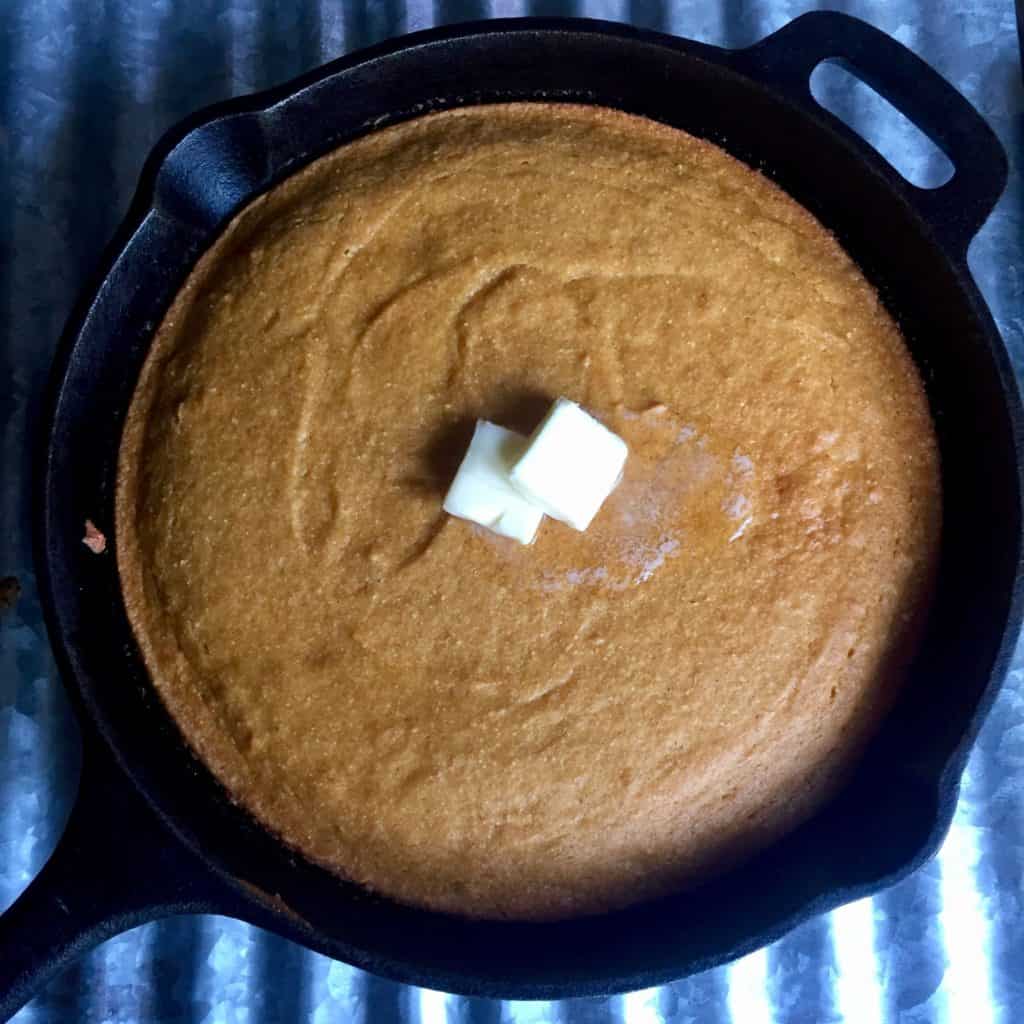 Christmas Classics
These are the side dishes you know and love. They come with great flavors and equally fantastic nostalgia. From green beans to mashed potatoes, these are the perfect Christmas sides and deserve a spot on this list of 61 Best Christmas Dinner Side Dishes For Salmon and they deserve a spot next to your gorgeous salmon.
57 – Green Bean Casserole

Tender green beans, creamy mushroom sauce and French fried onions. It's a match made in heaven.
58 – Air Fryer Bacon Stuffed Mushrooms

I could eat a whole batch of these in one sitting. They have tasty notes of sage, bacon and parmesan cheese. Bonus, they are quick and easy to make,
59 – Brown Sugar Sweet Potatoes

I call these my sweet, sweet potatoes. I keep the sweet potatoes thick cut and saluted in cinnamon, sugar and butter and then layer them together and top with toasted marshmallows. They are the elevated version of mashed sweet potato casserole.
60 – Bacon and Mushroom Stuffing

I am a self proclaimed stuffing monster during the holidays. I love it! These bacon and mushroom stuffing is a great twist on the classic!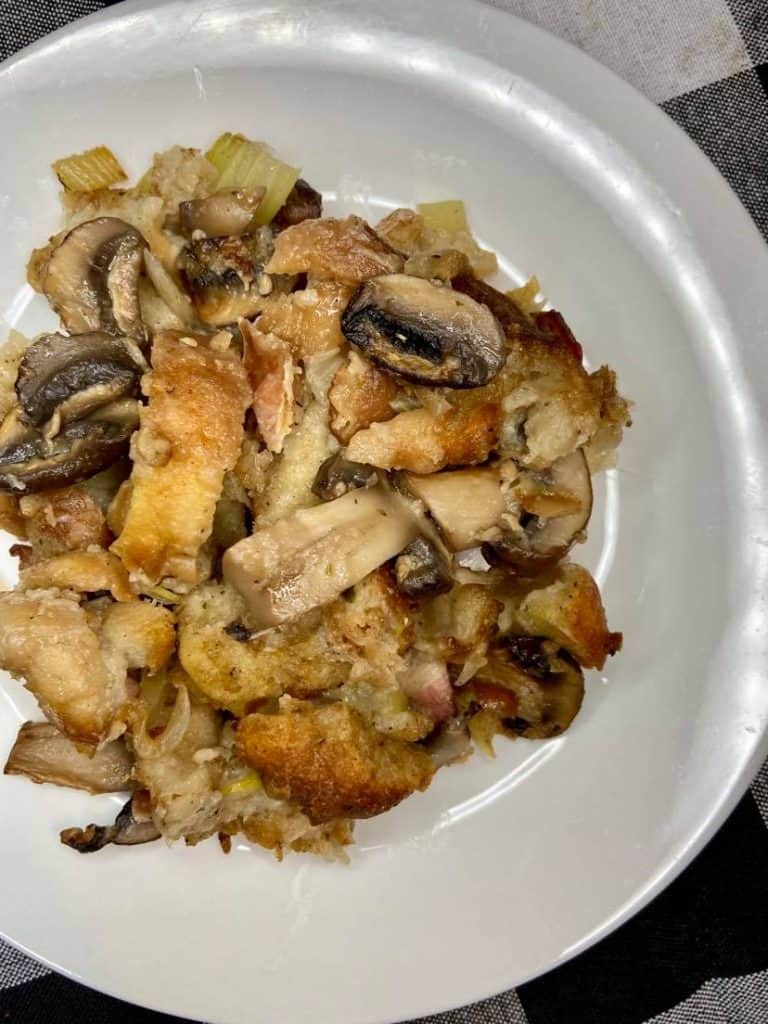 61 – Perfect Mashed Potatoes

What is a Christmas dinner without potatoes?!?! My husband could eat these everyday if I facilitated that dream for him. So I have lots of experience mixing up this butter and fluffy staple, here is my perfect mashed potato recipe.
62 – Stove Top Stuffing (bonus recipe)

This is technically recipe #62 but how can I not include my easy to make stovetop stuffing. It's traditional and a certified Christmas classic!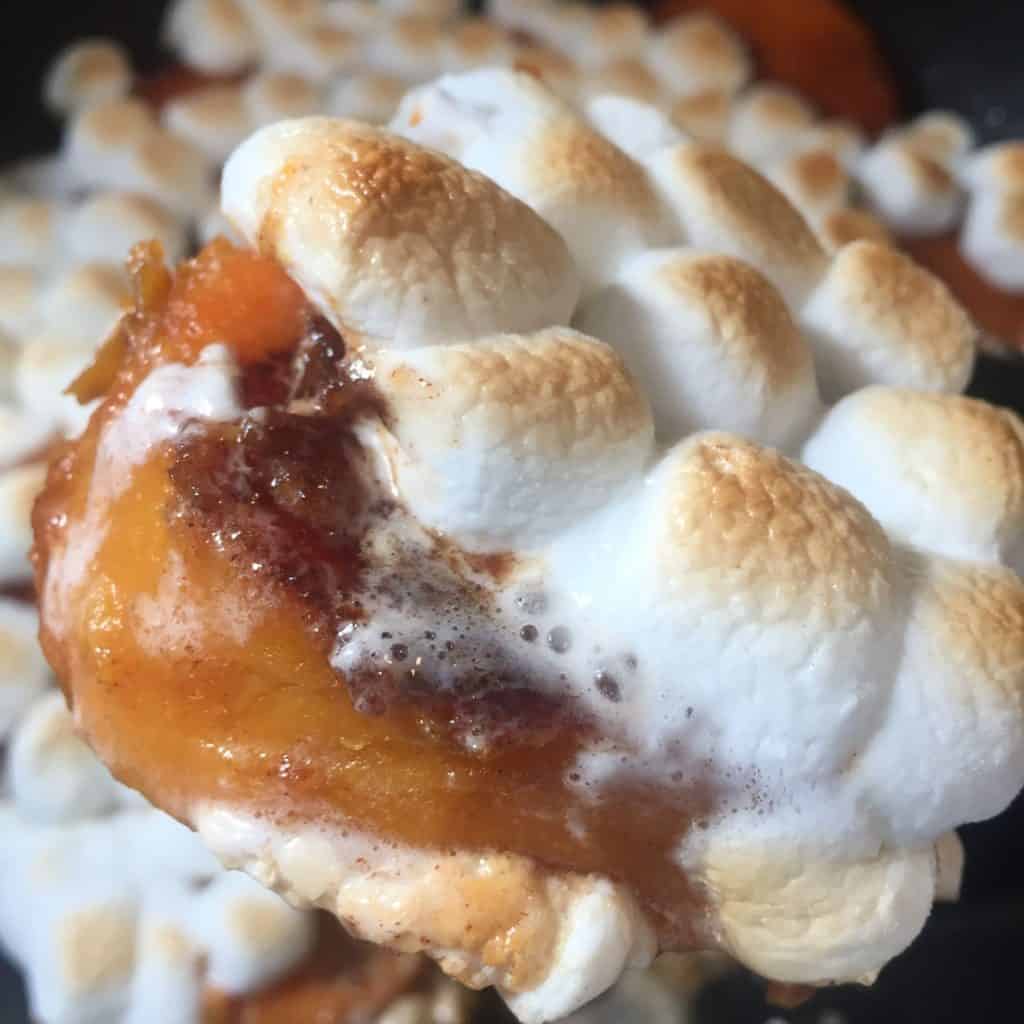 I hope that you have enjoyed my list and most importantly, you've gotten some inspiration that will help your Christmas dinner be a success that is filled with delicious food, great conversations and memories made. Happy Holidays to you and yours from me and mine.